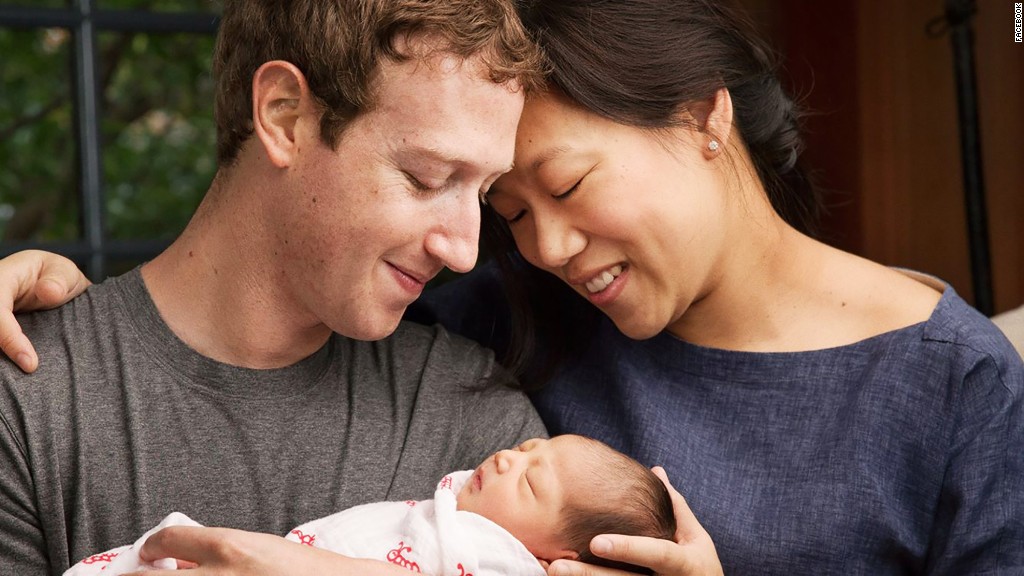 Dr. Priscilla Chan has kept a low profile over the past few years, but that will prove harder to do now.
The 30-year-old pediatrician just gave birth to her first child Max, a daughter, with husband Mark Zuckerberg, Facebook's founder and CEO.
She is cofounder and CEO of a new nonprofit private school in East Palo Alto called The Primary School, due to open next year.
And her name is attached to a new limited liability company -- the Chan Zuckerberg Initiative -- to fund nonprofits and "[participate] in policy debates" that help "advance human potential and promote equality." In announcing their daughter's birth, the couple also pledged to donate 99% of their Facebook stock -- worth about $45 billion -- "during our lives" to promote equality and the human potential.
Chan gave her first national TV interview to The Today Show's Savannah Guthrie last year, but up until then had avoided media appearances and posting publicly to her Facebook page.
Chan's childhood
In the interview, Chan talked about her past and how it influences her.
Priscilla Chan grew up in Quincy, Massachusetts, a town outside of Boston. Her parents immigrated to the United States in refugee boats, she told Guthrie.
Chan is the oldest of three girls, and the first in her family to go to college.
Her mother worked two jobs her entire childhood. On The Today Show, she recounted how she grew up speaking Cantonese and served as a translator for her grandparents, who didn't speak English.
Chan graduated from Quincy High School in 2003 as class valedictorian, and her classmates voted her "class genius."
As a kid, Chan recalled being "really uptight," telling Guthrie: "I bossed my middle sister around all the time."
Chan's college and professional life
Chan attended Harvard University from 2003 to 2007, where she met and started dating Zuckerberg. She earned a BA in biology and studied Spanish.
According to her Facebook profile, she moved to San Jose, California, after graduation and worked for a year as a science teacher for fourth and fifth graders at the Harker School, a private school.
Chan then started medical school at the University of California, San Francisco in 2008.
She graduated around the time she married Zuckerberg, which was on May 19, 2012, the day after Facebook went public.
She finished her residency in pediatrics this summer, and works at San Francisco General Hospital as a pediatrician.
"Congratulations to Dr. Priscilla Chan for finishing your medical residency today! I'm so proud of you for all of the lives you've saved and families you've touched," Zuckerberg said about his wife on Facebook.
Chan's philanthropic projects
Chan's charitable goals are tied closely to her personal and professional backgrounds: mainly education, healthcare and science.
Together with her husband, Chan has donated more than $320 million to school systems, educational nonprofits and hospitals over the past few years.
Next year, she'll launch The Primary School, a nonprofit private institution that will provide K-12 education, prenatal support and on-site healthcare.
"For the past year, our small team has been working with East Palo Alto and Belle Haven families, educators and leaders to develop a model to address these complex needs," Chan wrote in October.
Most recently, the couple donated $75 million to San Francisco General Hospital's new trauma center and acute care wing named after them.
The two also gave out awards for the Breakthrough Prize, a nonprofit organization they helped launch that grants winners $3 million for various scientific achievements.
"Priscilla and I helped create the Breakthrough Prize because we believe that scientists should be recognized as heroes," Zuckerberg said in a post.