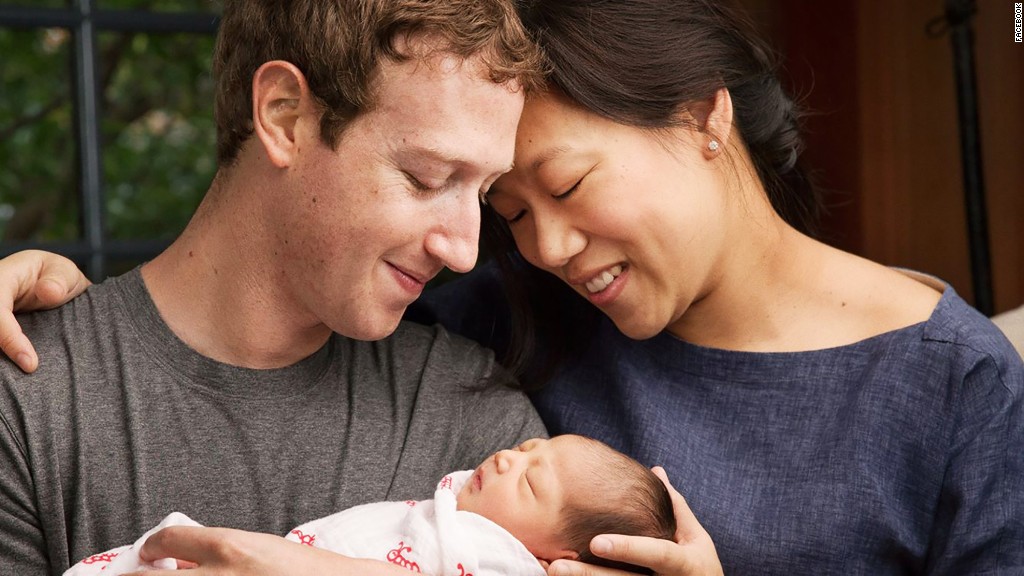 Instead of cigars, Facebook cofounder and CEO Mark Zuckerberg is celebrating the birth of his new daughter by pledging to give away 99% of his
Facebook

(FB) shares.

Money from the shares, currently valued at $45 billion, will go to projects and charities that advance human potential and promote equality.

Zuckerberg and his wife Dr. Priscilla Chan announced their plan on Tuesday in an open letter to their new daughter, Maxima Chan Zuckerberg. The donations will take place over their lifetime, and the exact worth of the shares will likely change.

Zuckerberg will not give away more than $1 billion in stock a year during the next three years, according to a filing with the SEC. He will keep his majority stake in Facebook, and thus voting control, for the foreseeable future.

"We know this is a small contribution compared to all the resources and talents of those already working on these issues. But we want to do what we can, working alongside many others," the new parents said in the lengthy post.

The money will be dispersed through the Chan Zuckerberg Initiative. The organization will focus on four key areas: personalized learning, curing diseases, connecting people and community building.

The couple has been active in various charitable programs. They donated $120 million to education programs in the Bay Area through their nonprofit Startup:Education and donated $100 million to schools in Newark, New Jersey. Earlier this year, they also founded The Primary School, a new Bay Area school for underprivileged children that combines education with health care.

Zuckerberg and Chan are not the first billionaires who have promised to give away most of their fortune. They have joined the Giving Pledge, a pact by billionaires including Warren Buffett and Bill Gates, to give away half or more of their money to charity.

Though Max was born early last week, the parents made the announcement on Giving Tuesday, an annual event that encourages people to donate to charities.