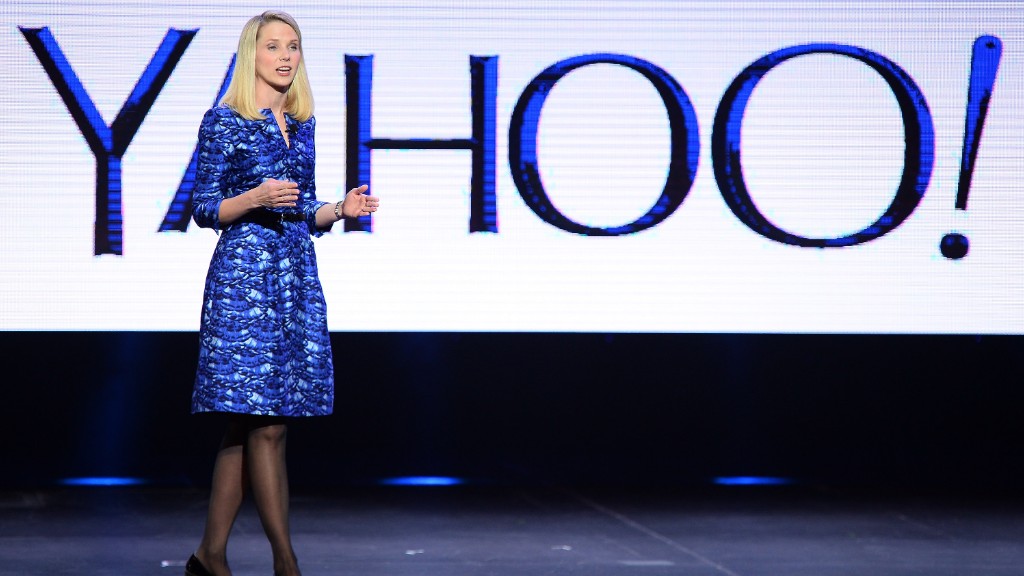 Is Yahoo getting ready to wave a big purple surrender flag?
According to The Wall Street Journal, Yahoo's board will hold a series of meetings this week to discuss the company's future.
Among the possible plans on the table? Selling Yahoo's core business -- which includes many Yahoo-branded sites as well as Flickr and Tumblr.
Yahoo (YHOO) has struggled to turn itself around over the past decade. It has steadily lost ground in the digital ad race to Google (GOOGL) and Facebook (FB).
Activist shareholder Starboard Value has publicly called for Yahoo to sell its core business, especially since it's still not clear if the IRS will deem the company's spin-off of its Alibaba shares as a tax-free deal.
Related: Yahoo could be looking for a buyer
There's also been a revolving door in the CEO office -- and some are now calling for current CEO Marissa Mayer to be ousted after nearly three-and-a-half years on the job.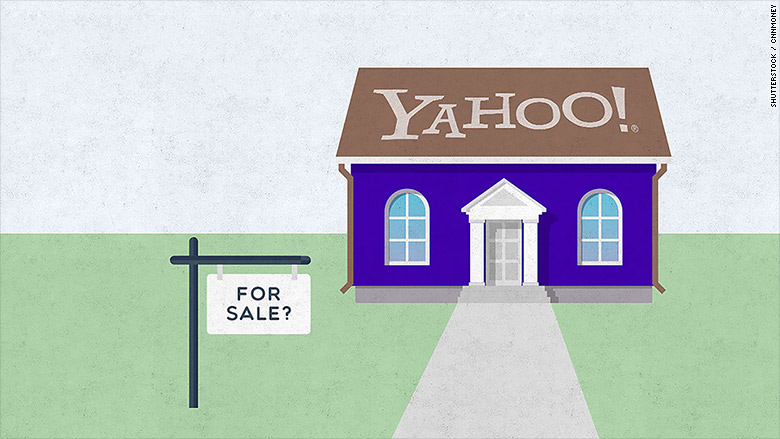 So if Yahoo decides to sell the main business, would anyone be interested in buying it?
At first blush, it's hard to imagine who would want Yahoo. But it still does generate tons of traffic. And Wall Street seems to be buying into the rumors. The stock rose 6% on Wednesday.
With that in mind, here are some possible candidates.
Alibaba
Yahoo is already planning to spin off its 383.6 million shares in the Chinese e-commerce giant to raise cash. So if Yahoo decides it might want to sell its operating assets instead, Alibaba (BABA) could potentially make a bid.
Alibaba's Jack Ma has made it no secret that the company has global aspirations.
Alibaba also has purchased several media assets already, most recently announcing a deal to acquire the remainder of Youku Tudou (YOKU) -- aka China's YouTube -- that it didn't already own. Plus, buying Yahoo is a convenient way to repurchase its own shares.
SoftBank
Yahoo's other prized Asian asset is a nearly 36% stake in Yahoo Japan (YAHOF), a separately run company. But Japanese tech and telecom conglomerate SoftBank (SFTBY) is the largest shareholder of Yahoo Japan -- with a nearly 43% stake.
SoftBank also has what seems to be the perfect executive to try and resurrect Yahoo.
Nikesh Arora, SoftBank's president and COO, joined SoftBank last year after nearly a decade working at Google.
Related: Yahoo's journey from pioneer to lost at sea
SoftBank isn't afraid of a big reclamation project either. It owns 83% of struggling U.S. wireless carrier Sprint. (S) And Sprint rival Verizon (VZ) already scooped up AOL this year.
So maybe SoftBank would want Yahoo to help boost Sprint's mobile video business?
SoftBank also owns a big stake in Alibaba. Could a three-way deal make sense? SoftBank buys Yahoo and then sells the combined stake to Alibaba? Perhaps.
AT&T
One hedge fund manager mentioned Ma Bell as a possible acquirer for Yahoo's core assets. It sort of makes sense given the Verizon-AOL deal.
But AT&T (T) just recently acquired DirecTV. That deal will do a lot more to boost AT&T's video presence than buying Yahoo.
Still, Yahoo would be a smallish acquisition for Ma Bell. And if the NFL is serious about streaming more football games with Yahoo, that alone could make Yahoo attractive to AT&T since DirecTV has the rights to the lucrative Sunday Ticket package.
Microsoft
The only reason I'm mentioning Microsoft (MSFT)is because it made offers for Yahoo in 2008 that the Purple Portal rejected.
Could Microsoft go at Yahoo again? Unlikely. So much has changed in the digital world since then. MySpace was still relevant in early 2008. (Although not for much longer.)
Related: Will Satya Nadella wind up being a better Microsoft CEO than Bill Gates?
Buying Yahoo also wouldn't mesh with Microsoft CEO Satya Nadella's cloud-first strategy. Still, stranger things have happened. Microsoft and Yahoo are already search partners. And Bing finally just reported a profit for Microsoft.
Twitter
This would be a classic case of two wrongs trying to make a right.
Twitter (TWTR) is a company with a bit of an identity crisis. Just like Yahoo.
But according to figures from eMarketer, Twitter will pass Yahoo for third place in the online display ad market this year.
Could a combination of Twitter and Yahoo be a more legitimate third place contender behind Facebook and Google? A sort of Dr Pepper to Google's and Facebook's Coke and Pepsi?
Barbarians at the Gate
Two Wall Street analysts who follow Yahoo think that a private equity firm might want to pounce on Yahoo.
Scott Kessler, analyst with S&P Capital IQ, said that a takeover by a private equity firm would take pressure off Yahoo to meet quarterly earnings and revenue targets.
"There is a lot of pressure on the company. Selling to a private equity group could make sense," Kessler said.
Related: Should Yahoo CEO Marissa Mayer be fired?
Brian Wieser, an analyst with Pivotal Research Group, agreed.
"We can also imagine that there would be private equity buyers -- or individuals with private equity backing and different ideas as to how to turn the business around," he wrote in a report Wednesday.
The wild cards
Apple (AAPL) has gobs of cash and there's some chatter about it wanting to own content and not just distribute it.
The hedge fund manager mentioned big media firms as possible suitors.
Disney (DIS) and Comcast (CMCSA) have partnerships with Yahoo's news division. (Disney through ABC and Comcast with CNBC and Yahoo Finance.) Josh Strauss, co-manager of the Appleseed Fund -- which owns Yahoo -- thinks Comcast is a logical buyer.
Liberty Media (LMCA)? IAC (IACI)? Media moguls John Malone and Barry Diller haven't been afraid to grow through acquisition.
It's fun to fantasize about who might buy Yahoo. Despite its problems, it's so big and has been around for so long that it's hard to imagine it just fading away. Someone probably would want it for the right price. But there's the rub.
The major impediment to a Yahoo sale is the fact that its wounds are on public display. Why should any acquirer pay a premium for it? Yahoo has little (if any) negotiating leverage. Wieser estimates that the core business is worth less than $2 billion.
"The big question is whether anyone would actually show up with a meaningful bid," Wieser said.