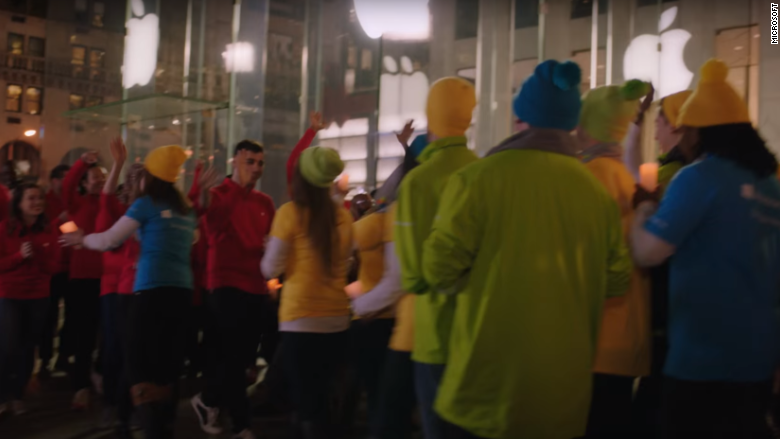 Microsoft and Apple have a long history of going at each other's throats. But it's the holiday season, and Microsoft decided to offer its rival a bit of peace, love and good cheer.
In a new TV commercial that aired this week, Microsoft employees in the company's new Fifth Avenue store in New York dash down the street to the iconic Manhattan Apple Store. Holding candles and decked out in Microsoft gear, they begin to sing "Let there be peace on Earth."
Apple employees then file out of the store to applaud and hug the Microsoft staff.
Isn't that sweet? It's just like Apple's "Mac vs. PC" ads or Microsoft's "Surface vs. MacBook" ads -- except the total opposite.
Though the ad was made to appear spontaneous, it was actually planned ahead of time, with Apple's (AAPL) permission.
Microsoft (MSFT) auditioned hundreds of its employees from across the country, choosing 37 of the company's best singers to participate. The Harlem Youth Choir also joined in, as did some Apple Store employees, who were notified about what Microsoft was going to be pulling off.
The commercial was filmed live on November 16, just a few weeks after Microsoft opened its new store.
"It was a fitting welcome to the neighborhood by Apple and a warm celebration to begin the holiday season," said a spokesman for Microsoft. "The song's message of hope and empowerment resonated strongly with the participants and crowd alike during this particularly emotional time of year."