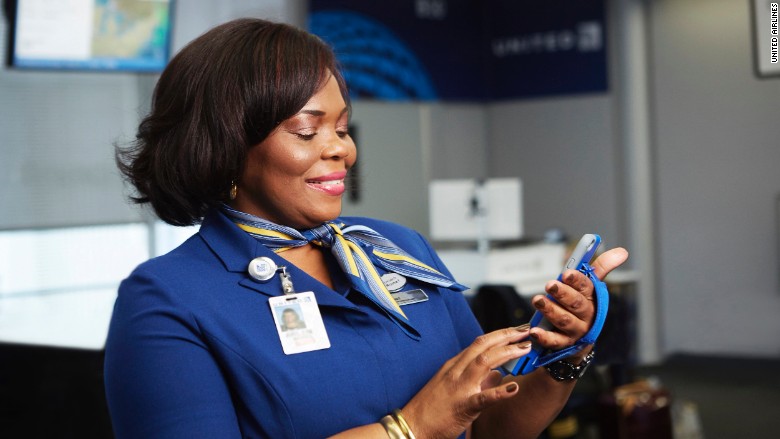 The next time you find yourself stranded in an airport, pleading with a customer service representative for help, they just might whip out an iPhone 6 Plus.
Starting next year, 6,000 United Airlines (UAL) customer service representatives at U.S. airports will be outfitted with iPhones running custom United apps. At first, they'll only be able to do basic tasks, like print new boarding passes or baggage tags for people who have already checked-in. They'll be able to look up other flight options, but not rebook passengers.
Eventually, the airline hopes to upgrade the software so that representatives can check fliers in and rebook flights, making them almost as powerful as current kiosks.
It's not the first time United has given its employees iOS devices. Currently, all active pilots and flight attendants have United-issued Apple devices. In 2011, it distributed iPads to more than 13,000 pilots. In early 2015, the airline gave 23,000 iPhone 6 Plus smartphones to flight attendants.
Last year, United Airlines was ranked last in customer satisfaction, according to the American Customer Satisfaction Index. This year it only ranked better than Frontier and Spirit Airlines.
The customer service reps in airports bear the brunt of travelers' hostilities. iPhones can't make more planes run on time, but mobile devices might make it easier for employees to address issues quickly.
Companies are a major business for Apple (AAPL). Over the last year, it has made around $25 billion in revenue from enterprise customers. United is currently the only airline with an extensive iOS-based program.
Many airlines have given their crews mobile devices, which replace bulky paper manuals and can take mobile payments. American Airlines (AAL) gave some of its flight attendants Samsung Galaxy Notes. They can see passenger information, seat assignments and gate details on the devices. Delta (DAL) gave 22,000 flight attendants Nokia phablets in 2014, and JetBlue (JBLU) crew members use iPad Minis and take Apple Pay.