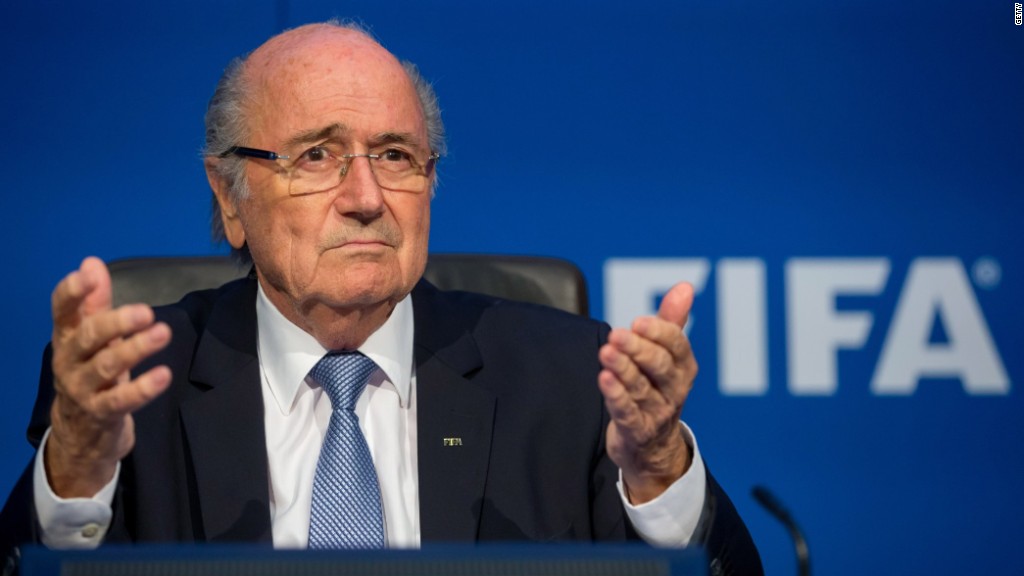 World soccer officials with FIFA said Thursday they were committed to making fundamental reforms to deal with its corruption crisis. But will soccer's key sponsors be satisfied?
Coca-Cola (CCE), McDonald's (MCD), Visa (V), Adidas (ADDDF) and AB INBEV (BUD) released a joint letter this week demanding action from FIFA. They want not only reform but long-term, independent oversight.
FIFA acknowledged the pressure.
"It is abundantly clear that [soccer] fans and FIFA's commercial partners will no longer accept anything short of full transparency," FIFA said in a statement.
FIFA, soccer's governing body, has agreed to a series of governance changes in the wake of a major corruption scandal.
"The ultimate goal is that we will be recognized a modern, trusted and professional organization by ... our commercial affiliates," FIFA said.
FIFA President Sepp Blatter has been suspended and step down next year, although he's resisted calls from major sponsors to resign.
Related: Luxury homes and jewelry for FIFA exec's $10 million bail
One idea floated was to have sponsors sit on a new advisory committee. That's not going to happen.
"The Advisory Group will not include, in my opinion, representatives of the sponsors, but I am coordinating this with them," Francois Carrard, head of FIFA's reform committee, said at a news conference.
FIFA did agree to a "code of conduct" for commercial partners that it will post on its website.
How the sponsors react will be critical to FIFA's financial health.
FIFA would not confirm reports that it is losing money this year, the first time in more than a decade. But finance chief Markus Kattner conceded it was not "an easy year."
FIFA is becoming more like a business. Reforms include more independent committee members and oversight from a fully independent audit and compliance committee. There will also be term limits for senior officials, disclosure of salaries, the creation of a board of directors and more women executives.
The reform package will be formally voted on in February.
"Today's decision by FIFA's Executive Committee marks a step in the right direction," Adidas said in a separate statement. "We believe that independent oversight will be crucial in implementing the initiated reform process."