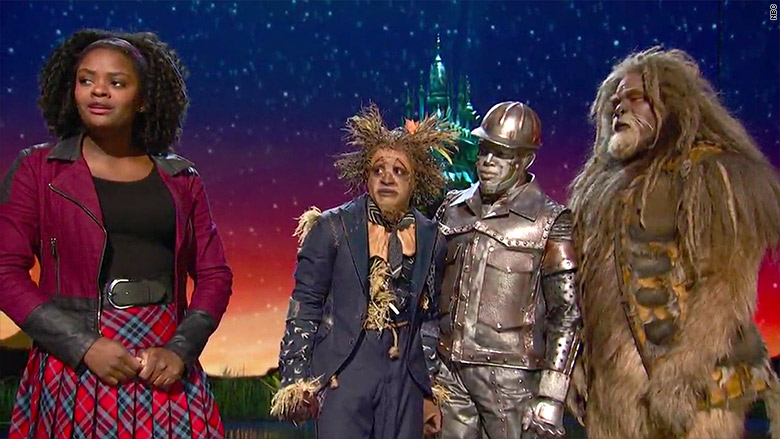 There's no place like live TV.
NBC's live musical, "The Wiz Live!," brought in 11.1 million viewers on Thursday night, according to NBC.
This made the network's adaptation based on the 1975 Broadway show "The Wiz" the second best non-sports Thursday night for the Peacock network in six years.
The viewership number was also better than NBC's live musical last year "Peter Pan Live!" which brought in 9.2 million viewers. However, it was behind NBC's first live TV musical, "The Sound of Music Live!" which brought in 18.6 million viewers in 2013.
The musical starring Queen Latifah, Mary J. Blige, and newcomer Shanice Williams was a ratings success for NBC, and it was celebrated on social media.
"The Wiz" accounted for 128 million Twitter impressions on Thursday night, a total more than both "Peter Pan Live!" and "The Sound of Music Live!"
Related: 'The Wiz Live!': You loved it
The live adaptation of the Broadway show, which itself is a take on "The Wizard of Oz" but with an African American cast, was also a hit with critics.
"'The Wiz' is by far NBC's most sophisticated live musical broadcast yet; it's also one that felt, movingly, of its time," wrote Daniel D'Addario, Time's TV critic.
The big ratings also speak to another fact: Live TV events are growing increasingly important in the current TV media landscape.
With delayed and on-demand viewing becoming more the norm in TV households across the country, NBC's "The Wiz" showed that live TV can still bring in a big audience.
"Yes, as you might expect, there were some glitches: a stray camera, a balky effect, some moments of empty sound — and a missing in action Toto," wrote Robert Bianco, USA Today's TV critic. "But that's part and parcel of doing and paying for live TV on this ambitious a scale. Luckily this time, with this production, those ambitions bore fruit."
Sign up for the Reliable Sources newsletter — delivering the most important stories in the media world to your inbox every day.