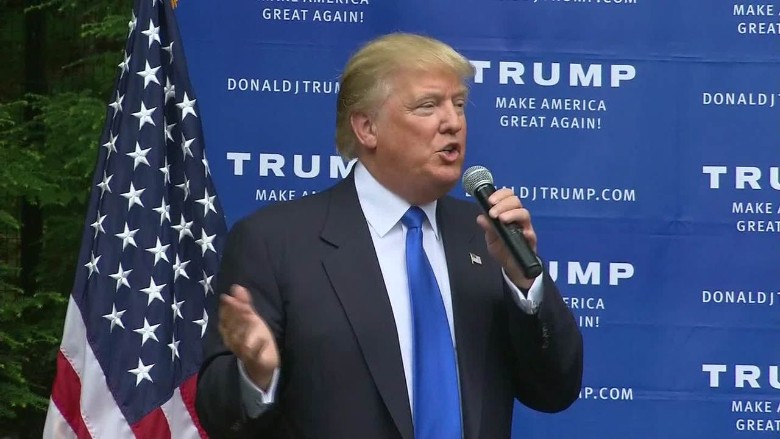 Univision, the largest Spanish-language broadcasting company in the United States, filed a motion on Friday to dismiss Donald Trump's $500 million lawsuit against the company.
In a strongly worded filing in a New York court, Univision called Trump's defamation claim "beyond frivolous" and said the Republican presidential frontrunner is "too 'thin-skinned' to endure the kind of lampooning that has typified presidential campaigns since the founding of the Republic."
Trump filed the lawsuit this summer after Univision ended its contract to broadcast the Miss Universe and Miss USA pageants, which were partially owned by Trump. He is suing the company and one of its top executives for breach of contract and defamation, along with other claims.
The Univision filing on Friday asks the court to dismiss the suit.
Alan Garten, the executive vice president and general counsel of the Trump Organization, said that Univision's motion to dismiss is "laughable."
"Clearly, this hasn't been a good week for Univision. They are loaded with debt and just decided this week to once again postpone their long planned IPO," Garten said in a statement. "As far as the litigation, Univision can try to distract the court and the public from the real issues in dispute all it wants. The fact remains that Univision willfully breached their contract, acted in bad faith and caused my clients to suffer significant damages. For this, Univision will pay in the end."
Related: Trump: NBC, Univision abandoned '51 wonderful girls'
Univision dropped the pageants in response to Trump's remarks about Mexican immigrants at his campaign launch event on June 16. Several other companies also severed ties with Trump, which Univision brought up in its filing on Friday.
"Of all the companies that fired him, Trump has focused on suing Univision, the most prominent company with a Hispanic identity, and one of its executives, a Mexican immigrant," the motion said.
Univision noted that Trump has barred Univision reporters from his campaign events, asserting that the campaign has held up the suit "as a warning to anyone who would criticize Trump."
The Trump campaign has said that giving press credentials to Univision reporters would represent a "conflict of interest" due to the lawsuit.
Trump's defamation claim centers around an image posted on Instagram by Univision's president of programming and content Alberto Ciurana in June.
The image included a photo of Trump next to a photo of Dylann Roof, the gunman who killed nine people in a Charleston, South Carolina, church.
Univision said in its motion that "a reasonable viewer" would interpret the image as a "tongue-in-cheek observation on Trump's appearance -- hardly novel, given that Trump has long been lampooned for his hairstyle."
The motion continued, "Even if the visual comparison were interpreted to convey Ciurana's opinion on Trump's suitability for national office, that opinion would be entitled to absolute protection under New York law and the Federal Constitution."
Univision declined to comment further.
Sign up for the Reliable Sources newsletter — delivering the most important stories in the media world to your inbox every day.