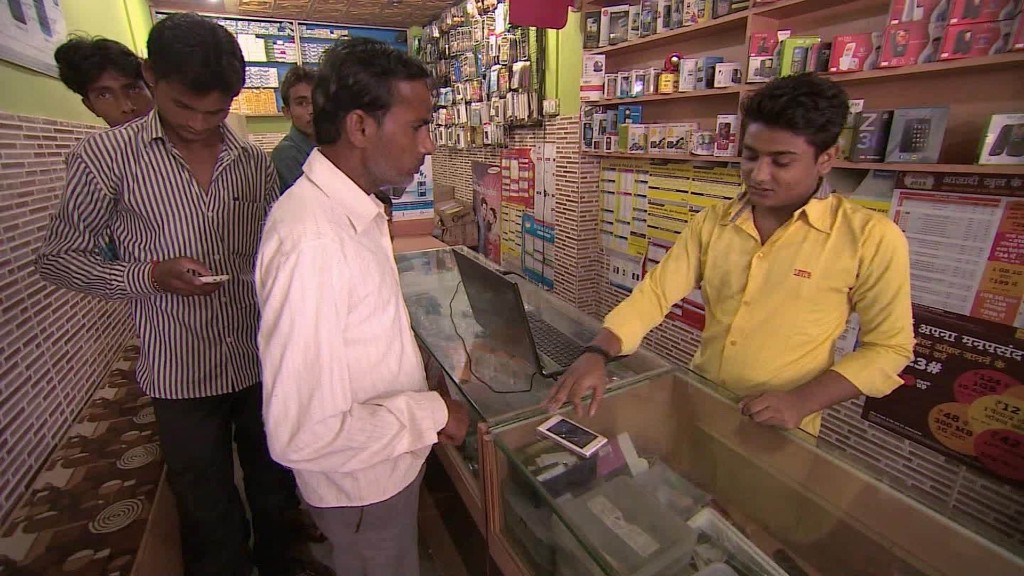 For a glimpse into the future of computing and e-commerce, look no further than India.
India could have 657 million Internet users by 2019, up from 277 million at present. The boom is happening so quickly that many of them will access the Internet for the first time on a mobile device.
In many cases, they'll stick with mobile, turning the desktop computer -- and its web browsers -- into a relic.
It's a trend that e-commerce companies are racing to capitalize on.
"Smartphones are powering the online retail market as consumers increasingly use their mobile phones to buy products online," said Satish Meena of Forrester Research.
Meena estimates that mobile shopping in India will be bigger than desktop e-commerce as early as next year, and sales could hit $19 billion by 2019. That leaves retailers with precious little time to get their mobile shop windows in order.
But they're already responding. When shopping-crazed Indians visited leading platforms during this year's festive season, the best deals weren't found on desktop websites -- they were on mobile.
Related: Indian startup puts Uber in the shade
Flipkart, one of India's largest e-retailers, wasn't even offering discounts to desktop users during its Diwali sale. In order to find a bargain, users had to download the company's app.
Myntra, a fashion portal owned by Flipkart, has gone even further, closing its desktop and mobile websites. It's now an app-only service.
"India is gradually transitioning from a mobile first to a mobile only country. We have been following a mobile first approach and 70% to 75% of our total traffic is already coming from our mobile app," Flipkart said in a statement.
That puts India on the leading edge of a global trend. Mobile web traffic in the U.S. and Europe has been growing by leaps and bounds, but in few places is it increasing as quickly as India.
Cheap smartphones are making the Internet available to more and more Indians. Many smartphones sell for less than $100, and data plans are affordable for members of the growing middle class.
"As the prices of handsets and data plans decline, more and more people are going online via their mobile devices and exploring the online retail channel," Meena said.