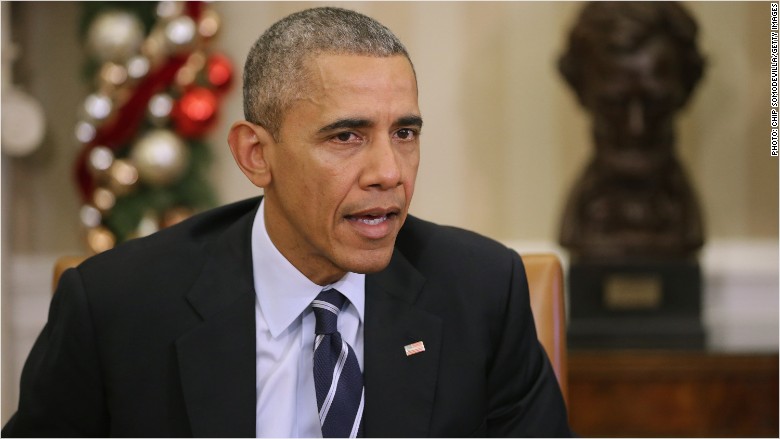 If President Obama wants his address to the nation about terrorism to reach the broadest possible audience, he picked the right date and time.
His 8 p.m. ET address from the Oval Office will come right after NFL football on Fox and right before a prime time game on NBC. In fact, the "Sunday Night Football" pre-game show will start at 7, pause for Obama's speech, and then pick up afterward.
NBC executives expect that Obama will wrap before the Colts-Steelers kick-off.
White House officials consulted with the television networks over the weekend, as they typically do whenever the president requests network air time for an important address.
The president decided late on Friday to address the country in the wake of the San Bernardino shootings, but Saturday was an unattractive scheduling option, partly because TV audience levels are much lower on Saturday nights.
Related: 'End the gun epidemic' - New York Times front page editorial
So Sunday was chosen instead. Sundays rank highest for primetime TV usage, with an average of 125 million viewers across dozens of channels, according to Nielsen.
NBC's "Sunday Night Football" leads the way; in the fall and winter, it is usually the most-watched prime time show of the week.
Last week it averaged 25.2 million viewers.
With kickoff around 8:30 p.m., 8 p.m. made the most sense for Obama's address.
The White House determined that it would plan a 15-minute speech before the aforementioned consultations with the networks.
"NBC will broadcast the President's address to the nation, and will rejoin NFL coverage at the conclusion of the speech," an NBC Sports spokesman confirmed on Sunday afternoon.
Related: NY Daily News cover on San Bernardino shooting: 'God isn't fixing this'
Lester Holt will anchor the coverage on NBC, joined by Chuck Todd. They're expected to keep the post-speech analysis to a minimum so that NBC Sports can resume NFL coverage.
CBS will have more time for analysis. That's because the 8 p.m. hour of "60 Minutes" consists of stories that have been shown before, so preempting the news magazine isn't a big deal.
The ABC and Fox broadcast networks will also show the presidential address. Fox could deliver the president a particularly high-rated audience because it has early-evening football coverage.
Fox News, CNN, and MSNBC will all televise the address, as well. The annual telecast of "CNN Heroes" was shifted back one hour, from 8 to 9 p.m., to make room for coverage and analysis.
Obama has delivered 12 official "addresses to the nation." This will be the third from the Oval Office and his ninth from the the White House.
CNN's Kevin Liptak contributed reporting.