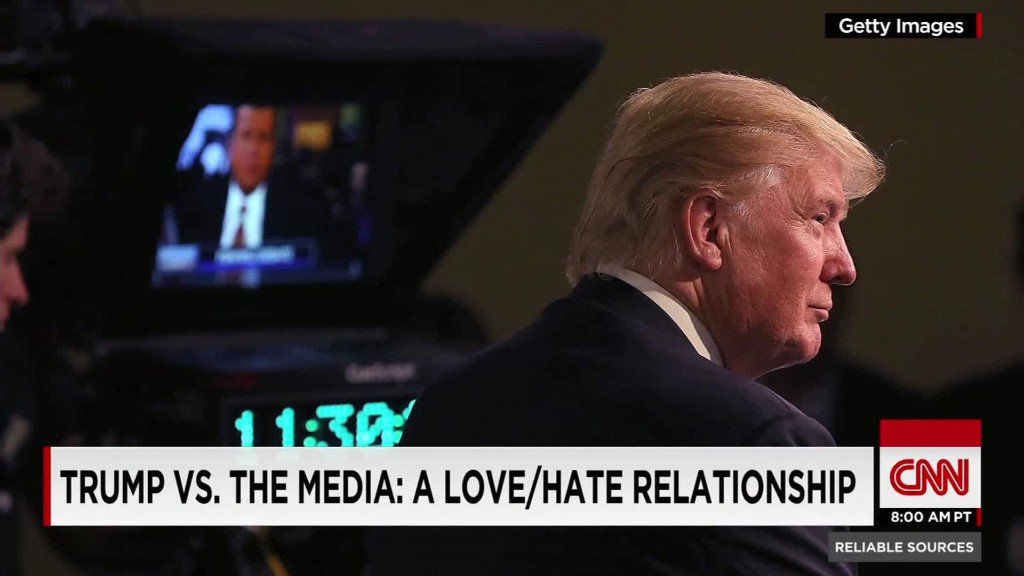 Jeff Bezos had only tweeted three times before Monday when he aimed his fourth tweet at Donald Trump. It included the hashtag #sendDonaldtospace.
Bezos, the CEO of Amazon (AMZN), owns the Washington Post as well as the space exploration company Blue Origin.
What sent Bezos into orbit was a series of tweets by Trump accusing Amazon of not paying "fair taxes." Trump suggested that if Amazon did so, its "stock would crumble like a paper bag."
Trump didn't stop there.
He alleged that Bezos is using his ownership of the newspaper as a "big tax shelter" for Amazon since the paper is "losing a fortune."
Trump also claimed that Amazon is a "no profit" company.
Bezos' tweet seemed to take Trump's attack as a badge of honor as he replied while creating his first hashtag.
Trump didn't elaborate on Amazon's tax figures. He actually didn't cite any.
But when you take a look at Amazon's numbers -- and consider that The Washington Post is not an Amazon subsidiary -- Trump's claims don't really hold up.
For one, Amazon doesn't own the newspaper. Bezos does. So it's not clear at all how Amazon can use the paper's losses as an excuse to pay lower taxes.
Related: Fact-checkers take on Donald Trump
It's no different than Bezos' ownership in Blue Origin. He couldn't use losses there to lower Amazon's tax rate.
"The fact that Bezos owns two companies would generally not allow one of them to reduce its corporate income tax bill," said one corporate tax expert.
Regarding Trump's claim about taxes, Amazon paid $167 million in income taxes in 2014 -- the first full year after Bezos acquired the paper. And that was despite the fact that Amazon reported a pre-tax loss in 2014.
And in the first nine months of this year, Amazon has paid $498 million in income taxes and reported pre-tax income of $630 million.
So Trump is wrong when he said that Amazon is unprofitable.
"It doesn't make any sense," said Martin Sullivan, chief economist with Tax Analysts.
To be sure, Amazon doesn't have a squeaky clean image with regards to taxes.
It has been targeted in probes in Europe for allegedly paying lower taxes there than it should. It agreed earlier this year to pay taxes in more European nations. It had previously only been doing so in tiny Luxembourg.
Amazon isn't the only big American company accused of dodging taxes abroad either. Apple (AAPL) and Starbucks (SBUX) have come under fire in Europe too.
But nobody in Europe has accused Amazon of using Bezos' personal investment in a media company to lower its tax bill.
Amazon had no comment about Trump's allegations.
Its stock has more than doubled this year. That is mainly a reflection of Amazon's growing dominance in online retail and its emergence as a cloud computing giant, and not because of what it does or doesn't pay in taxes.