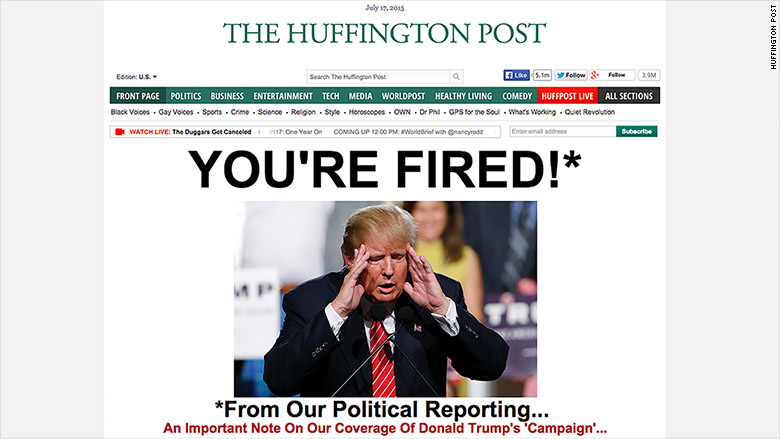 The Huffington Post announced Monday it will no longer put coverage of Donald Trump's presidential campaign in its entertainment section, reversing a policy that began shortly after Trump announced his candidacy.
The change was a response to Trump's call for a ban on Muslims entering the United States. Trump had called Monday for "a total and complete shutdown of Muslims entering the United States until our country's representatives can figure out what is going on."
Editor-in-Chief Arianna Huffington explained the reversal in a lengthy editor's note headlined "We Are No Longer Entertained." She wrote that Trump's "vicious pronouncement" made it "abundantly clear" that his campaign has morphed into "an ugly and dangerous force in American politics."
Related: HuffPost to cover Trump as an entertainer, not a politician
The Huffington Post initially announced its intention to cover Trump in its entertainment section in July. At the time, the candidate had already referred to Mexican immigrants as rapists. Trump also had a history of making derogatory remarks about women and using racially charged rhetoric in public speeches.
In August, when Trump solidified his front runner status, the site's editors insisted they would keep Trump coverage in entertainment, stating that "Trump is nothing more than a sideshow and not a legitimate presidential contender with serious policy ideas for moving the country forward."
Related: HuffPost, unmoved by polls, keeps Trump in celeb section
On Monday, Huffington sought to use Trump's ban on Muslim entry as a moment to tout her website's commitment to responsible reporting.
"As we cover his daily campaign, we'll constantly remind the public of what he stands for, citing references and providing links," Huffington wrote. "So if Trump's words and actions are racist, we'll call them racist. If they're sexist, we'll call them sexist. We won't shrink from the truth or be distracted by the showmanship."
The change also comes after Politico exposed that several highly trafficked articles with videos of cute puppies and the like had been categorized under Huffington Post's Politics section, accounting for nearly a third of the traffic to that section. Huffington Post subsequently moved at least two of those articles back into its "Good News" section.
Sign up for the Reliable Sources newsletter — delivering the most important stories in the media world to your inbox every day.