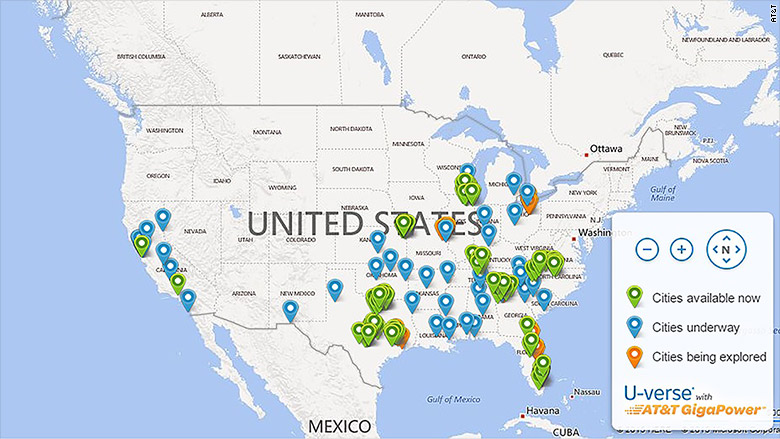 AT&T will deliver ultra high-speed Internet to 38 more cities through its GigaPower service.
But when those installations will be complete and how much customers will pay are unclear.
AT&T (T) GigaPower is a fiber-optic network that promises maximum data transfer speeds up to 1 Gigabit per second, which is about a hundred times the speed of a typical broadband connection.
The two-year-old service is currently available in 20 markets. AT&T would not disclose the number of GigaPower customers, but said the service is available in more than 1 million locations and plans to double that number by the end of next year.
"You can download 25 songs in less than a second ... or your favorite HD movie in less than 36 seconds," AT&T said in a statement Monday.
Actual speeds will vary, depending on what device you're using and how many other people are accessing a specific website or service.
Streaming video and audio now make up 70% of data downloads during peak times, so there is a growing demand for faster Internet speeds.
AT&T is racing to roll out high speed service across the country:
-- Currently, Comcast has a Gigabit Pro service that can reach speeds up to 2 Gigabits per second in about a dozen states. Comcast (CCV) is also working on a way to upgrade its existing cable Internet to as fast as 10 Gigabits-per-second.
-- Verizon (VZ) is also working on new broadband technology that can increase download speeds to 10 Gigabits per second.
-- And Google Fiber, a subsidiary of Alphabet (GOOGL), offers connection speeds starting at 1 Gigabit per second. It's available in three cities and six more will get it soon.
An AT&T spokesman said costs for GigaPower will be "competitive," ranging from $70 to $110 a month depending on package and market. No contract will be required.
Among the markets AT&T plans to enter: Detroit; Cleveland, Ohio; Memphis, Tennessee; Birmingham, Alabama; and Little Rock, Arkansas.