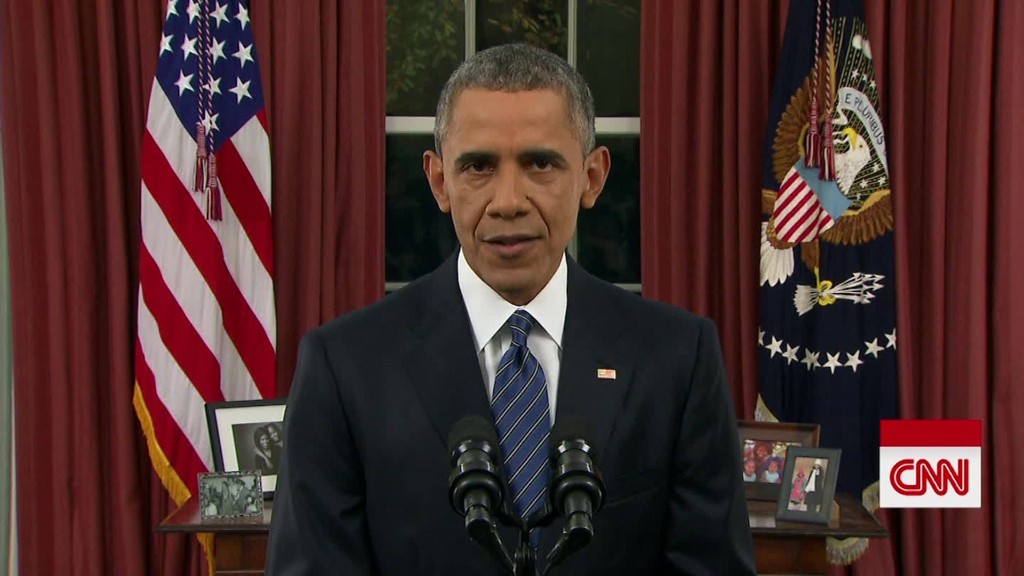 During his Sunday evening speech about terrorism, President Barack Obama called on tech companies to help America fight the Islamic State.
"I will urge high-tech and law enforcement leaders to make it harder for terrorists to use technology to escape from justice," he said.
It's not yet clear what that means. But to many, this sounded like a vague reference to an ongoing debate about encryption.
The government wants to keep terrorists from communicating with tools that avoid surveillance. The biggest challenge in law enforcement today is the inability to track terrorists who "go dark" by encrypting their communications.
Right now, it's easier than ever for two people on opposite sides of the planet to have private, secure conversations.
WhatsApp and Telegram are apps that encrypt text. The Signal app encrypts phone calls. Wickr sends self-destructing messages. FaceTime, the video chatting app for iPhone, is encrypted too. For email, there's a tool called PGP. The popular, legal options are numerous.
All of these programs turn words into jumbled computer code. Government spies can't break that code fast enough.
The result? The same technology that keeps a conversation private between you and a family member also gives a safe haven to a terrorist in Syria and the person in the United States he's trying to recruit to commit an act of mass murder.
And making matters more difficult for police investigators is that devices themselves are also encrypted. Even if police obtain a suspect's phone, they sometimes can't decrypt the information on the machine.
Apple and Google devices now require passcodes to unlock them. And only you, the device owner, has the key to unlock it. These companies took that pro-privacy measure as a response to widespread public outcry in 2013, when ex-NSA contractor Edward Snowden revealed that the U.S. government is conducting mass surveillance without warrants.
In short: The government was caught secretly spying on our private lives, tech companies fought back by building better walls, and now government is complaining it can't protect us adequately enough.
Until recently, the Obama administration was aggressively pushing for companies like Apple, Google and Microsoft to insert a back door into their products. The idea was to force them to keep a separate set of keys -- just in case law enforcement wants to secretly tap into people's computers and smartphones.
But tech companies fought back, noting that other governments or even hackers could steal those keys too. Its safer to not keep a spare set of keys for unwelcome visitors.
The Obama administration quietly dropped that fight. But FBI Director James Comey keeps warning that terrorists are being empowered. And recently, Manhattan's district attorney complained that encryption is making terrorism cases "go cold."
Sunday's speech showed that the president still hopes tech companies will do more to help government investigators. But the president's staff wouldn't say if that means pushing again for a back door -- or something else.
"Our goal for these conversations is to find additional ways of making it even harder for terrorists or criminals to find refuge in cyberspace," one senior administration official told CNNMoney.
That could mean teaming up with companies like Facebook and Twitter to make them more proactive.
ISIS shares news, distributes propaganda and actively recruits soldiers on social media networks. The companies that own these channels could more quickly disable pro-ISIS social media accounts.
Also, people often show signs of radicalization online. For example, San Bernardino shooter Tashfeen Malik posted a pledge of allegiance to ISIS leader Abu Bakr al-Baghdadi on Facebook while the shooting was happening. Social media companies could alert law enforcement of warning signs.
On Twitter Sunday night, some in the technology business community asked what steps they could take.
Sean Byrnes, the CEO of data company Outlierai, suggested "finding disaffected people who need social and psychological help before they are vulnerable to recruitment?"
Sriram Krishnan, a mobile advertising executive at Facebook, responded: "That's actually a good one. I can see variations of that working. Or spotting/taking down people who could be recruiting them."