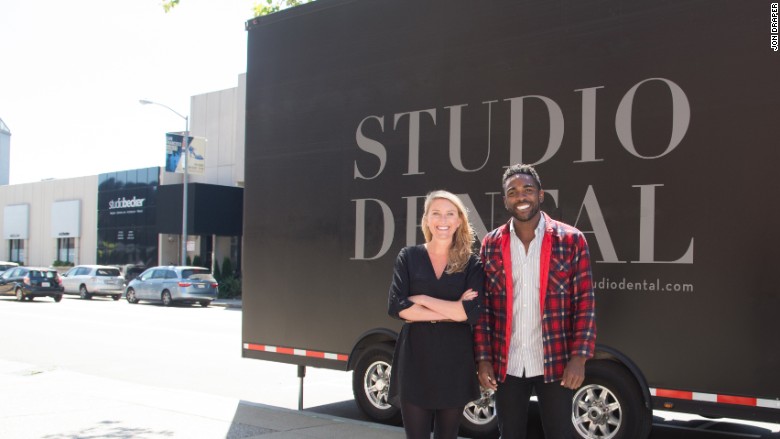 Getting a tooth pulled in the back of a windowless truck on the side of the road doesn't sound like a luxury.
Unless you're in San Francisco.
Studio Dental is a beautifully designed mobile dental studio that brings dentists to busy tech employees. The towering trailer parks outside of companies so patients can dash down for dental work without missing too much work or getting stuck in traffic.
Founded in 2014 by Lowell Caulder and Dr. Sara Creighton, Studio Dental is one of a number of companies bringing basic services to tech workers. You can spot them in downtown San Francisco or at major tech campuses across Silicon Valley, parked alongside the now ubiquitous food trucks.
Their services are lumped in with other well-known techie perks like free lunch and doggie day care, but most employees actually pay out of pocket.
A trim in the back of the Onsite Haircuts RV starts at $25. Emily Harris purchased the company six years ago and has grown it from one truck to five trucks with 14 stylists.
Related: Google grants a 97-year-old's wish
Now the mobile salons make regular visits to major tech companies like Yahoo (YHOO), Adobe (ADBE), Genentech, Google (GOOG) and LinkedIn (LNKD). Everyone from senior execs to interns stop by for blowouts, buzzcuts and beard trims.
"It's really people who want to fit it in between their meetings -- who want to fit it into their daily life instead of their weekend life," said Harris.
Workouts are also hard to schedule, and easy to skip. Google has on-site gyms, a volleyball court and bikes. But sometimes you need someone to yell at you.
Nick Gudgeon was working as a personal trainer at Google when, one day, he saw a food truck on the highway.
"I came up with the idea of being able to train more people at once," said Gudgeon. "It would be the arch nemesis of a food truck."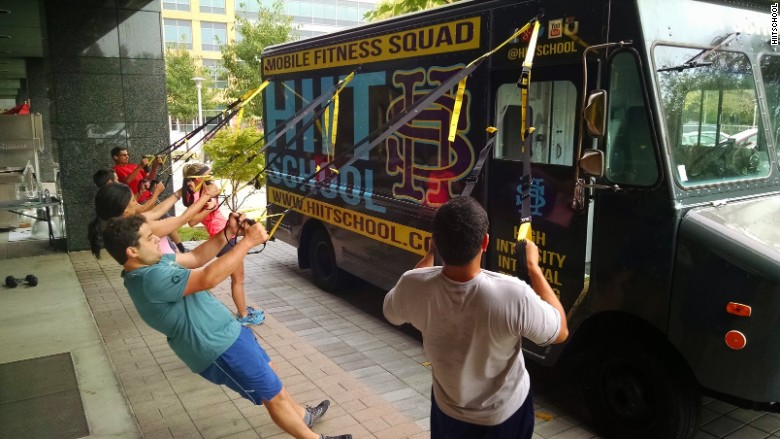 He bought a truck on Craigslist in 2013, filled it with exercise equipment, and started HIIT School. He sets up weights and upright bikes outside the truck on tech campuses, training classes of 14 people at a time. Gudgeon caters to his tech-minded clientele with data-driven workouts, giving everyone a score after their sessions. Now more than 300 employees at Google and Netflix (NFLX) pay $445 for 10 weeks of fitness classes.
Studio Dental makes trips to 25 San Francisco companies, including Airbnb, Dropbox, Twitter (TWTR) and Square (SQ). Inside are two fully equipped chairs, a handheld X-ray machine, ceiling-mounted TVs with Netflix, and a small lab. It takes most insurance plans and its dentists are able to do almost every procedure you'd get in a regular office, including removing wisdom teeth.
Related: Lie down at work in this crazy new chair
These trucks are similar to booming on-demand startups that handle errands, including Postmates, Washio and Shyp. If you don't have time to do mundane chores -- wash clothes, cook dinner, go to the post office, even fill up your gas tank -- there's a startup to do it for you.
But unlike many startups, the truck-based businesses are profitable.
Last year, Studio Dental made about $1 million. It plans to open a brick and mortar shop in San Francisco in the near future. OnSite Haircuts and HIIT School wouldn't share revenue, but both say they're profitable. All three were started with the founders' own money.
Harris at Onsite Haircuts has considered expanding to other salon services, but some of the tech companies don't want to go overboard.
"The biggest concern that they've had is that we don't do anything too pampering," said Harris. "The idea is that getting hair cut is a chore. Getting your nails done is a little bit more discretionary."