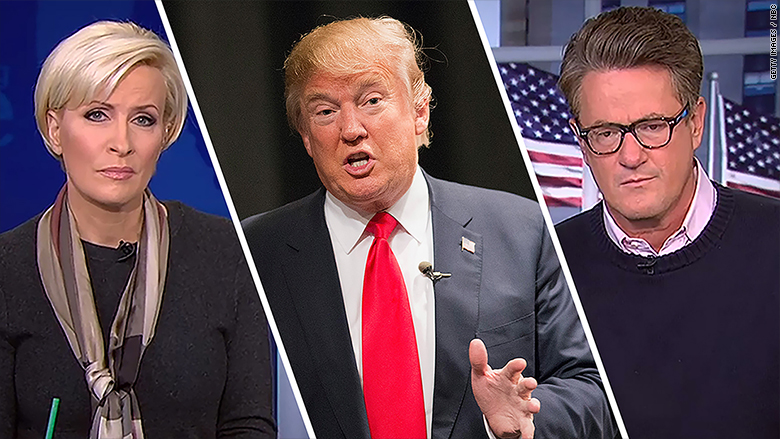 The hosts of MSNBC's "Morning Joe" cut off Donald Trump and went to commercial after the Republican presidential hopeful repeatedly refused to answer their questions during Tuesday morning's broadcast.
The rare act of media defiance came after Joe Scarborough and Mika Brzezinski warned Trump, who had called into the show by phone, that he needed to provide direct answers to their questions and not use his airtime to talk at length about whatever he wanted.
Related: Donald Trump wants to 'close up' the Internet
"You've got to let us ask questions, you can't just talk," Scarborough told Trump. "You've got to let us actually ask questions. You're just talking."
"No, no. I'm not just talking. I'm not just talking. I'm giving you the facts," Trump replied.
"All right, Donald. Donald. Donald. Donald," Scarborough said over his guest. "You're not going to keep talking. We will go to break if you keep talking. We're going to ask you questions. All right, go to break everybody. Go to break, go to break, go to break, go to break right now. We'll be right back with more 'Morning Joe.'"
Related: Jeff Bezos wants to send Donald Trump into space
MSNBC then cut to commercial and returned, with Trump, who took questions from the "Morning Joe" panel.
Trump is known among the political press for ignoring questions and instead using them as a springboard.
This time, Trump's lengthy response came after a pointed question from Brzezinski, who condemned Trump's call to ban Muslims from entering the United States.
"I'm not blind to the emotions that you're tapping into, but I also think there's a number of Americans that you're really scaring right now, including me," Brzezinski told Trump at the start of the interview.
But while Trump has employed that tactic throughout his six-month presidential campaign, he is rarely called out for it -- let alone interrupted.