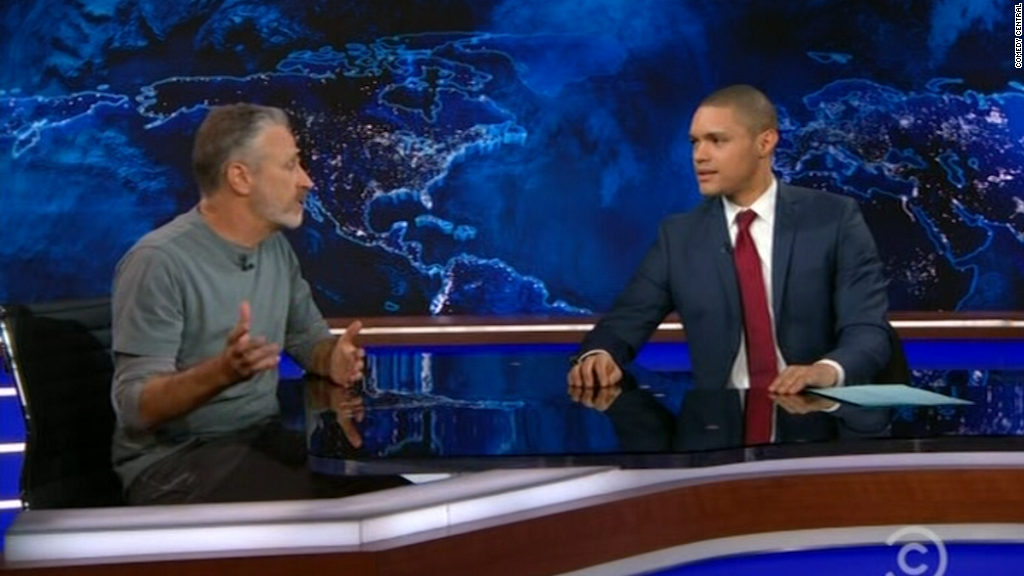 Jon Stewart was back on "The Daily Show" Monday night, but this time on the other side of the desk.
The long-time host of the satirical news show returned for the first time since signing off on Aug. 6 to speak about an important issue to the former anchor — a bill that would provide health care to 9/11 first responders.
"Wait, are you here to take the show back? Oh man, I heard about this in American TV," New "Daily Show" host Trevor Noah said to Stewart.
Stewart calmed Noah's fears saying he came on not to take the show back, but rather to give some attention to the law and realizing that he no longer has a show of his own to do so.
Stewart then explained the law, which provides health care to first responders who obtained injuries or illnesses due to the September 11th attacks, to Noah -- who couldn't figure out why Congress had not yet made the law permanent.
"You're not from around here, are you?" Stewart said to Noah.
Stewart lobbied congress over the bill in September and has been fighting for the 9/11 first responders act for years.
"It seems like a no-brainer, so, Jon, what's holding it up now?" Noah asked.
"No brains," Stewart quipped.
Stewart then asked viewers to contact congress on social media with the hashtag, "#WorstResponders."
"People forget, with all this talk now about terrorism from the World Trade Center to San Bernardino, the one common link to all of this is the first people on the scene were first responders," Stewart said. "What message does it send to our first responders if once we're done as a nation with them helping us that we forget about them? That's unacceptable to me."
Related: Jon Stewart signs off 'The Daily Show' with a 'love fest'
Stewart retired as host of the Comedy Central series in August with past correspondents and one of Stewart's favorite singers, Bruce Springsteen, bidding him farewell.
Since then the comedian has stayed somewhat off the radar.
In November, HBO and Stewart struck a four-year production deal that would bring the host to the network.
Stewart wrapped up Monday night's show alongside Noah for the traditional "Moment of Zen."
"You stand up when you do it now?" Stewart, who always ended the show at his desk, asked Noah. "If that's the way you want to do it, that's nice."