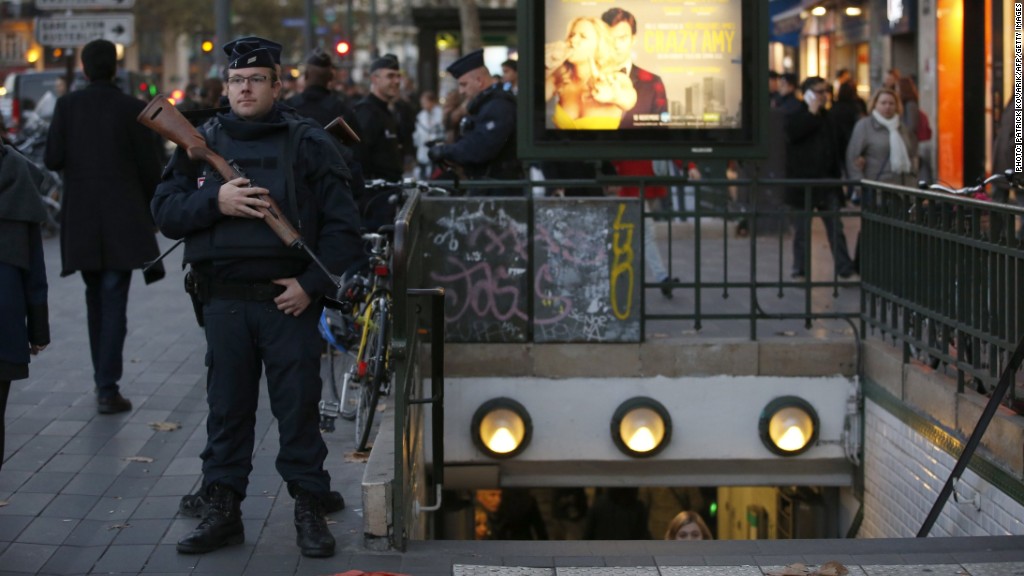 Last month's deadly terrorist attacks in Paris have taken a chunk out of Air France's revenues.
Air France-KLM said Tuesday that revenues in November had fallen by 50 million euros ($54 million) as a consequence of the attacks.
Terrorists killed 130 people in Paris on November 13. The attacks paralyzed the city for days and hurt its vital tourism industry as many visitors canceled trips.
Air France KLM (AFLYY) said its load factor -- which measures how full a flight is -- dropped 0.9 percentage points after the attacks.
The French-Dutch group said it expects the events will continue to weigh on passenger volumes going into next year but the impact should be "very limited."
The attacks have also clouded the outlook for France's fragile economic recovery. The Bank of France trimmed its forecast for fourth quarter growth on Tuesday to 0.3% from 0.4%.
France has just returned to growth after a long period of stagnation. Its economy grew 0.3% in the third quarter, and was forecast to grow by just 1.1% this year.
Related: Paris to visitors: It's safe here
Hotels, restaurants and other leisure activities have been hurt by the terrorist attacks, the Bank of France said.
Tourism is the number one industry in Paris: It generated more than 21 billion euros in revenue from nearly 46 million visitors to the city last year. Around 500,000 jobs in Paris and its immediate surroundings rely on the industry.
Economy Minister Emmanuel Macron said Paris hotels suffered a 15% to 20% slump in the number of guests in the week after the attacks, while the number of people dining in restaurants dropped 10%.
The number of tourists who canceled trips to the city in the week following the attacks jumped by 21% compared to the same week last year. And booking for Christmas -- normally a busy period in Paris -- were down 13% in the aftermath of the attack.