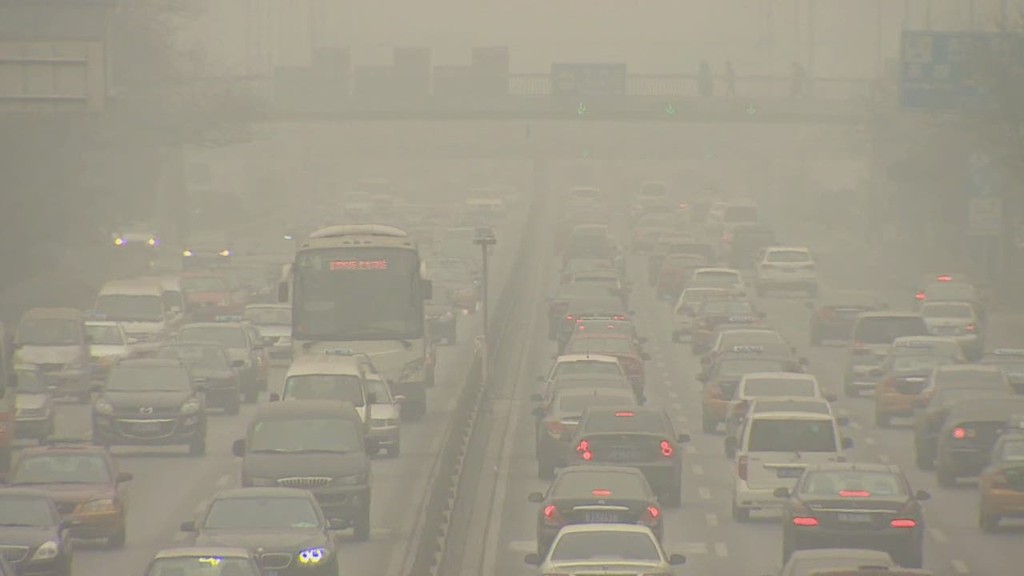 Severe pollution has again shut Beijing down after city officials issued their highest warning for smog for the first time.
The red alert is due to be in effect until noon Thursday local time (11 p.m. ET Wednesday).
China has long been battling the effects of pollution. Fast growth helped propel the country to become the world's second-largest economy. But the rapid urbanization and industrialization also meant plenty of polluting factories and businesses.
There's no question about it -- smog is taking a heavy toll on China, with many local companies taking a hit.
The World Bank estimates the total cost of air and water pollution is equivalent to 6% of Chinese GDP each year. That includes the impact on health, along with damage to natural resources, such as ruined crops from acid rain.
Tourism is one of the first sectors to feel the pinch when Beijing and other Chinese cities choke. Previous episodes have turned people away.
Related: World's richest 10% produce half of all carbon emissions
According to the China Tourism Academy, the number of overseas visitors to the country fell for three consecutive years through 2014. It blamed catastrophic air pollution.
"With the global economy stagnating, China's inbound market witnessed a poor performance [last year], with serious air pollution in Beijing and other major cities a major threat," said Euromonitor's Fangting Sun.
President Xi Jinping announced a five-year plan to tackle pollution in September 2013, with the aim of reducing the country's reliance on coal-fired power stations. But progress has been slow, and pollution continues to hurt the tourism industry, Sun said.
And it's not just tourists who are staying away.
Foreign companies trying to build their businesses in China face problems recruiting senior people from abroad because of pollution concerns.
Fifty-three percent of firms are finding it difficult to fill executive roles, according to a survey released earlier this year by Bain & Company and the American Chamber of Commerce in China.
For small firms, bad smog can be devastating.
Jia Xiaojiang, 30, a street food vendor, said Tuesday she loses roughly 20% of her customers on polluted days.
For richer Chinese, there's often an escape route.
Half of those surveyed last year by Barclays said they planned to move abroad, citing filthy air as one of the main reasons for wanting to emigrate.
Related: Pollution is driving foreign executives out of China
--CNN's Shen Lu and Guanhong Hu contributed to this report