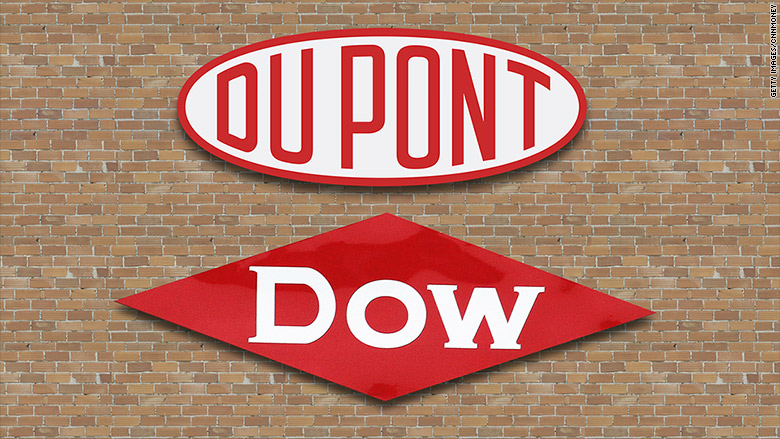 Maybe we can start calling them the "chemical brothers."
Dow Chemical (DOW) and DuPont (DD) are reportedly considering a massive $120 billion merger. And investors are thrilled. Shares in both companies are soaring by about 10% in premarket trading.
The Wall Street Journal and Financial Times reported overnight that the chemical companies are talking about combining their operations, then splitting themselves up again into three separate businesses. The reports cited unnamed people familiar with the negotiations.
DuPont and Dow declined to comment on "rumors and speculations."
Delaware-based DuPont and Michigan-based Dow Chemical are both worth about $58 billion.
They employ tens of thousands of workers producing chemicals and plastics that are used in a range of industries, from consumer products to cars. They also sell seeds and products to protect crops, like insecticides and herbicides.
Related: Why China is stealing America's corn seeds
There's been a spate of big mergers and acquisitions this year.
Pfizer (PFE) and Allergan (AGN) confirmed last month that they would combine to create the world's largest pharmaceutical giant. The deal, worth approximately $160 billion, would be the second-largest of all time, according to Dealogic.
And Anheuser-Busch InBev (BUD) announced a deal in October to buy its main rival SABMiller (SBMRY) for about $117 billion, creating the wold's biggest beer brewer.
"Ten of the 15 largest deals post the global financial crisis happened in the past 20 months, with markets responding better than ever to acquisition activities," said law firm Linklaters, which specializes in mergers and acquisitions.
Liberum analyst Sophie Jourdier said she had been expecting mergers in the agricultural chemical industry for some time as companies try to gain more market share.
If it happens, a Dow-DuPont deal could prompt competitors such as Syngenta (SYT), Monsanto and ChemChina to think about pursuing their own mergers, she said.
Monsanto (MON) abandoned a bid for Syngenta earlier this year after resistance from the Swiss company. ChemChina is also reported to have considered buying Syngenta.