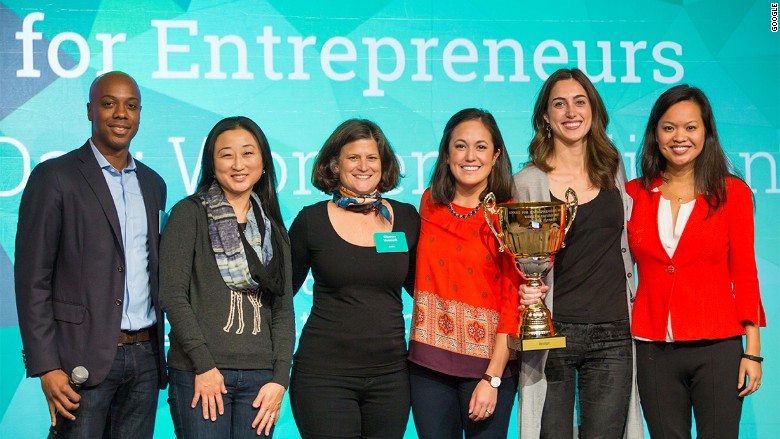 Lynette Kucsma had just four minutes to describe her startup's product, a 3D food printer, to a room full of judges and potential investors.
At the last minute, she decided not to include a story about printing dinosaur-shaped vegetable snacks for her child.
"When I do say I have kids, they think you're not going to put in 12 hour days," said Kucsma, cofounder and CEO of Natural Machines. "You never know when you're looking for funding now, is it going to be a positive or a negative?"
Deciding whether to mention family is just one issue unique to the female entrepreneurs who took the stage for Google's Demo Day. It was the third demo day hosted by Google for Entrepreneurs, but the first focused exclusively on women founders.
Currently, only 3% of venture capital funding goes to companies with a female CEO. That number has barely moved since 1999, when it was 2%. A recent Harvard study looked at identical pitches that were presented by male and female founders. Perhaps unsurprisingly, venture capitalists chose the startups led by men 68% of the time.
"We see that women are vastly underrepresented," said Mary Grove, director of Google (GOOG) for Entrepreneurs. "Is it access? Is it a pipeline issue? Is it visibility?"
Grove's team decided to try and improve those numbers with a women-focused demo day. They narrowed down 500 applications to the final 11 startups that presented during the event in downtown San Francisco.
The startups were not stereotypically female-themed and covered a wide range of fields.
On Second Thought is a messaging app that lets you un-send texts. April Kim created ChattingCat, a tool for non-native English speakers to get language help in real time. There were financial tools like True Link, banking aimed at seniors, and Trigger, a tool for automating stock trades. Many of the startups are already seeing success, like 24me, an AI-powered digital assistant app.
The event focused on women in technology, but the day's winning team also faces subtle discrimination from the construction world.
"People are very quick to ask 'How did you end up in construction?'" said Bridgit's Mallorie Brodie.
Bridgit makes Closeout, a tool that helps construction teams communicate. It stores key information like floor plans, and helps track to-do lists.
Brodie, 24, and her cofounder Lauren Lake, 23, met as students at the University of Western Ontario and founded Bridgit in 2013. Now their Canada-based startup has 70 paying customers and 12 employees.
Sharon Vosmek was one of the three judges who picked Bridgit as a standout. Vosmek is CEO at Astia, an organization that invests in and advises female-led startups.
While she applauds events like Google's Demo Day, she thinks gender issues will require more work to fix.
"It is my observation that demo days have not changed the landscape for women," said Vosmek. "The truth is there are some fundamental issues in the venture capital model with giving women access."
Most venture capitalists rely too heavily on their existing referral networks for finding new talent, according to Vosmek. Those trusted networks lead directly to investments, board seats, and executive suites. All places women and people of color continue to be underrepresented.
"They need to abandon their networks," she said.
Demo days might not revolutionize an entire industry, but they can have a big impact on participants.
Tatiana Birgisson won Google's Demo Day in April for her healthy MATI Energy drink. The startup received a pledge of $100 million on the spot from judge Steve Case and is stocked in Whole Foods. Birgisson came to the event to announce MATI's latest news: It's opening its own production facility in North Carolina.