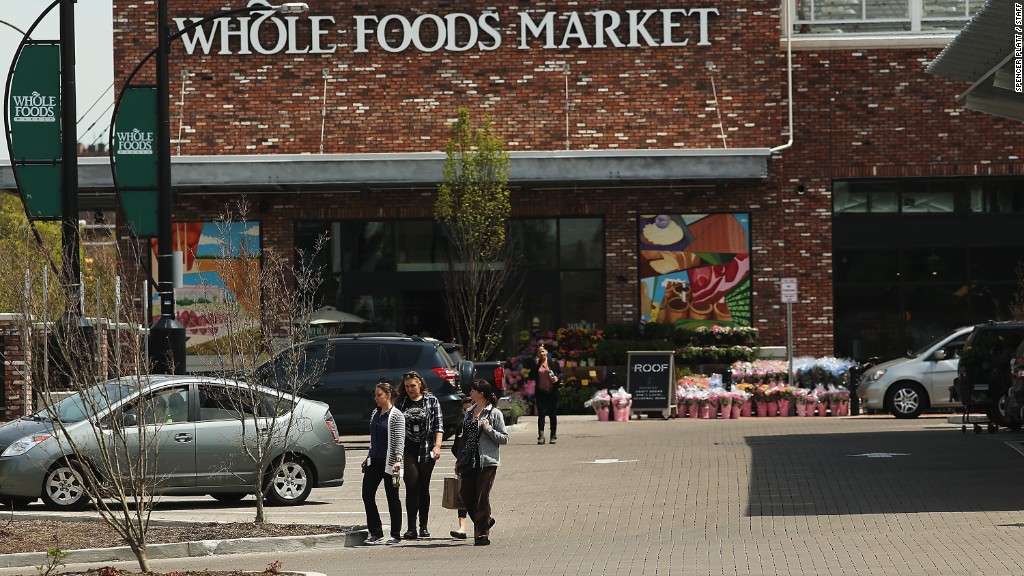 It has been a brutal year for Whole Foods. The stock has plunged more than 30% due to slumping sales and profits.
But some traders think the company might be looking to sell out so it no longer has to deal with Wall Street.
Shares of Whole Foods (WFM) were up more than 8.5% Friday and have shot up 15% this week. Friday's move may have been largely due to semi-bullish analyst comments about sales for the current quarter.
ITG's Joseph Fersedi wrote in a report that he thinks the company should be able to top forecasts simply because expectations have gotten so low.
But the takeover talk is helping too. Investing analysis site Benzinga cited rumors on Thursday about Whole Foods possibly looking to go private.
According to Benzinga, private equity firms Cerberus and 3G Capital were considering teaming up to buy the company.
It's an intriguing rumor. If true, it might explain why Albertsons, the supermarket that also owns Safeway, postponed its initial public offering in October. Cerberus owns Albertsons.
Presumably, it wouldn't have made much sense for Albertsons to go public just as Cerberus was trying to buy another grocery store chain.
Related: More hard times for Whole Foods
And 3G is a logical buyer for Whole Foods too. The Brazilian private equity firm has made a name for itself in the past few years by purchasing Heinz with Warren Buffett's Berkshire Hathaway (BRKB) and then merging that with Kraft (KHC).
3G also has stakes in blue chip consumer brand companies Anheuser-Busch InBev (BUD) and Burger King (QSR).
Cerberus had no comment about the speculation. 3G and Whole Foods were not immediately available for comment.
Still, investors should be cautious. Chatter about a Whole Foods sale has been circulating since the company first started to report sluggish sales last year.
First, there was unsubstantiated talk that Publix, the big privately held supermarket chain, might be interested. Earlier this year, rumors briefly floated about Costco (COST) making a run at Whole Foods.
Related: Whole Foods sued by a shareholder
It's not clear why either company would want Whole Foods though.
One of Whole Foods' biggest problems is that its organic products are no longer unique.
Publix and Costco, along with supermarket leader Kroger (KR) and retail king Walmart (WMT), have all bulked up their organic and natural food offerings. And they usually sell those products at a much cheaper price than Whole Foods.
Smaller organic rivals like Trader Joe's, The Fresh Market (TFM) and Sprouts (SFM) are eating into Whole Foods' market as well.
And many on Wall Street are worried that Whole Foods may soon have another new competitor -- itself.
Whole Foods announced plans earlier this year to start a new chain -- 365 by Whole Foods Market -- in urban areas. The stores are expected to be smaller and offer lower-priced products. But they could cannibalize sales at existing Whole Foods locations.
It's also not clear why a company would want to touch Whole Foods right now given its public relations problems.
Whole Foods was found to be overcharging customers in New York earlier this summer. It had to recall some cheese and salads in October due to listeria fears.
The grocer stopped selling food made by companies that use prisoners as workers after activists brought the practice to light and accused Whole Foods of taking advantage of cheap labor.
Related: Whole Foods to stop using prison laborers to produce food
And John Oliver tore the store apart on his show after a Whole Foods near Los Angeles started to sell sticks of asparagus in a bottle of water for $6.
Asparagus water turned out to be a mistake but it did little to change the Whole Paycheck perception many consumers have about the company.
Then again, the fact that Whole Foods has been shunned by investors and consumers may make it more willing to sell out. And buyers may look past the short-term problems and find value in the brand.
Just look at what happened with Keurig Green Mountain (GMCR) earlier this week.
The K-Cup coffee company's stock has been one of the worst performers this year, due in large part to a customer revolt after Keurig unveiled an expensive new brewing machine that wasn't compatible with popular private label coffee pods.
But JAB Holding -- which also owns Peet's and Caribou -- agreed to take Keurig private for a nearly 80% premium.
There's little doubt that Whole Foods -- like Keurig -- would also be better off if it didn't have to worry about meeting quarterly earnings and sales targets.