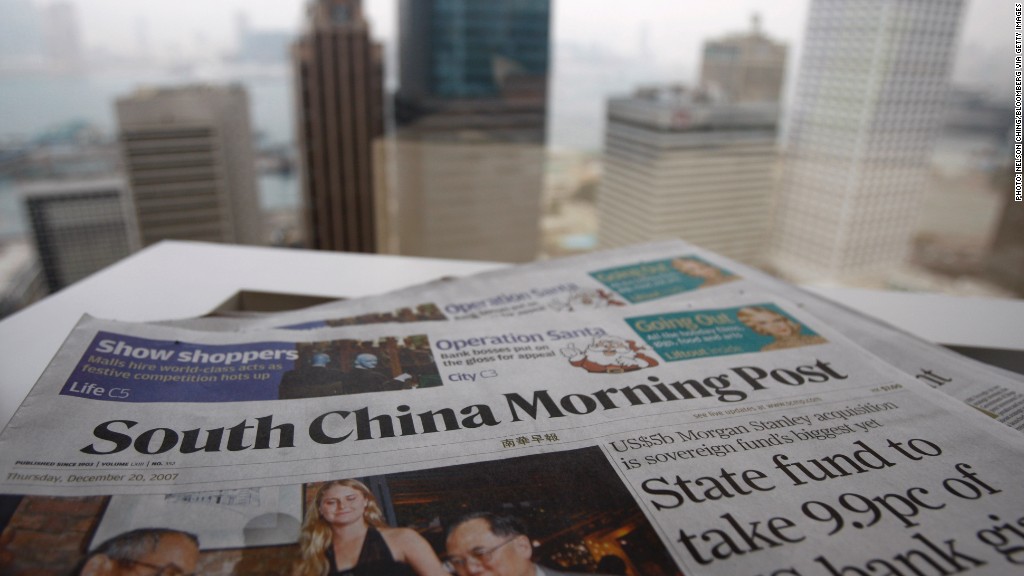 Alibaba is buying the South China Morning Post, the leading English-language daily newspaper in Hong Kong.
The Chinese e-commerce giant Alibaba (BABA) said Friday it will acquire the paper and all other media assets from the SCMP Group. The financial details of the deal have not been disclosed.
"The South China Morning Post is unique because it focuses on coverage of China in the English language. ... Our vision is to expand the SCMP's readership globally through digital distribution and easier access to content," said Joe Tsai, Alibaba's executive vice chairman.
Alibaba is open about trying to buy influence in the South China Morning Post. In an interview with the paper, Tsai said the world needs more than a single narrative when it comes to covering China.
"A lot of journalists working with these western media organizations may not agree with the system of governance in China and that taints their view of coverage...we see things differently, we believe things should be presented as they are," the paper quoted him as saying.
In an attempt to introduce the paper to a global audience, Alibaba said it will take down the paywall on the Post's website, the paper said.
"SCMP is uniquely positioned to help people around the world to understand China better...what is good for that understanding is also good for understanding Alibaba," Tsai said.
The 112-year old newspaper is one of the most influential media organizations in the region. But its print circulation and revenues have recently dipped.
For decades, the paper was covering issues that were off-limits to media in mainland China. It won awards for its coverage of the Occupy Central protests in Hong Kong.
But lately it has been criticized for reporting that is more in line with the official Beijing narrative. Jack Ma will be the first owner of the paper who comes from the mainland and there are fears the paper become more closely aligned with the official Beijing views.
Related: The year that Jack Ma would like to forget
By buying the paper, Ma is following a growing group of Internet tycoons who have invested in big media brands.
In 2013, Amazon's Jeff Bezos purchased the Washington Post for $250 million. Facebook co-founder Chris Hughes bought a majority stake in the New Republic the year before that.
Ma's company, Alibaba, has been increasingly active in leading various media and entertainment investments.
The Chinese firm recently purchased Youku Tudou -- China's answer to YouTube -- for $3.6 billion, along with other related digital investments in companies including Snapchat.
Related: What China slowdown? Alibaba's sales surge
-- Sophia Yan contributed to this article.