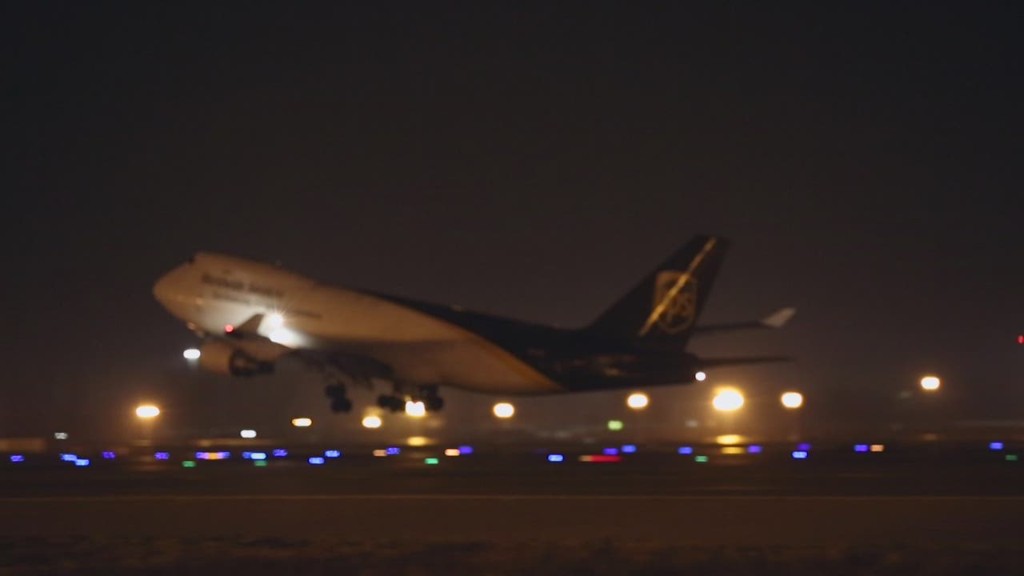 Now a surge in online ordering has some in the industry again worried about problems.
United Parcel Service delivered only 91% of its packages on time last week, according to figures from ShipMatrix, a company that tracks on-time deliveries. That sounds good, but it's actually down from a 97% on-time rate during the same period last year.
FedEx, which handles fewer household deliveries than UPS, had a 95% on-time delivery rate -- also lower than normal.
In addition to having to handle more deliveries, UPS is also having trouble finding the employees it needs, according to Satish Jindel, president of ShipMatrix.
Jindel said the 91% on-time delivery rate is not a disaster, especially with weeks still go to before Christmas. But, he added, "it's not what UPS would like to have, and it's lower than customers expect."
Related: Cyber Monday sales surge to record levels
UPS spokesman Steve Gaut declined to comment on the percentage of on-time deliveries. But he confirmed that the company had some problems at some of its hubs last week.
"All we can say is that the vast majority of our customers are getting their packages on time," he said.
FedEx did not respond to requests for comment.
Gaut said UPS responded to the problems by shifting employees around the country in what it calls "ready teams" to deal with the bottlenecks.
"There have been a couple of locations in the U.S. where we are receiving volumes greater than was planned for that hub," he said.
A delivery crunch happens to some degree every year at this time. Making the challenge greater this year: UPS has yet to hire all of the 90,000 to 95,000 seasonal workers it plans to add.
UPS expects to handle about 630 million packages between Thanksgiving and the end of the year, up about 10% from last year.
But online purchases over the Thanksgiving weekend through Cyber Monday were up 15% from a year ago, according to an estimate from Adobe.
While it's still early, the risk of lingering problems concern experts, said John Haber, CEO of Spend Management Experts, who advises retailers on shipping matters.
"The issue is when you get behind, then it's hard to get out of it, he said. "It's something that UPS has been incredibly concerned with because of what happened two years ago."