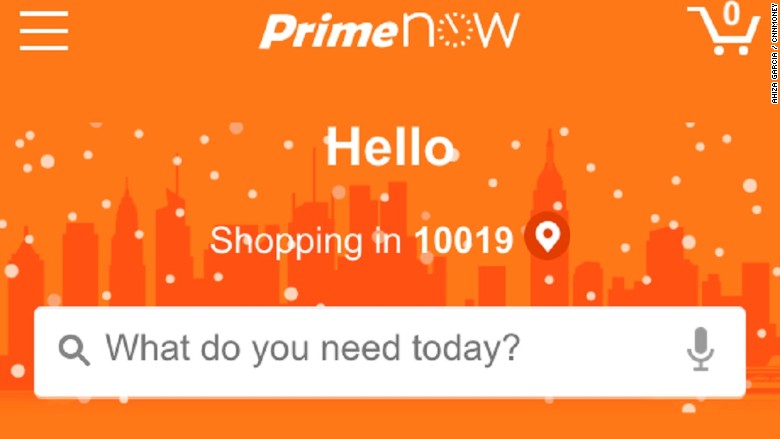 Amazon now delivers alcohol within two hours in Manhattan -- no shipping charges for Prime members. Cheers to that!
I decided to test it out myself on Saturday while I was sitting alone in the office. And my boss calls this work.
Don't worry. I wasn't going to drink alone. This was strictly for research.
Amazon rolled out the service on Thursday. Manhattan is only the second location where Amazon (AMZN) offers express alcohol delivery. In Seattle, where the company is based, Prime members can have alcohol delivered in one hour.
First a confession: I'm not a wine connoisseur. So deciding on two bottles that I might actually like took longer than it should have.
After spending some quality time on Google (GOOG), I called my sister for advice.
The selection available for two-hour delivery isn't huge -- the app displayed 256 results under wine. By comparison, the same search on Amazon's desktop site produced 9,545 results.
I rolled the dice and picked two Rieslings that were described as being crisp, with citrus highlights.
Sounded good. I entered my address and picked a two-hour time window. I selected 2 p.m. to 4 p.m. and placed my order.
It was 12:24 p.m.
Within seconds I got an alert on my phone that my order was being processed. It even offered me the ability to track my delivery.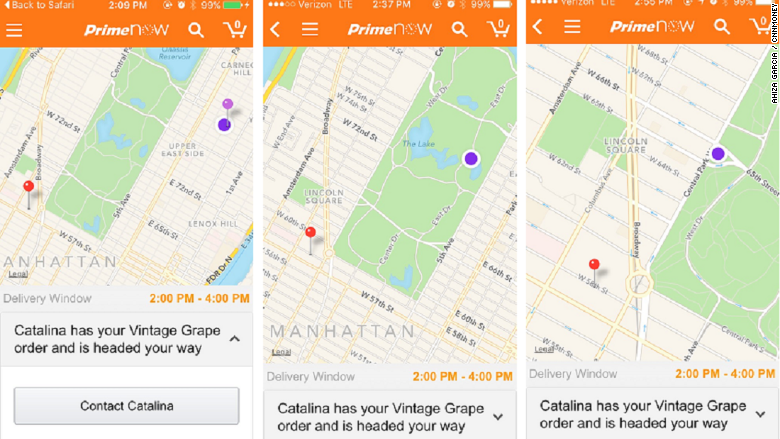 Using the app was completely seamless.
It's worth noting there was never a question about my age -- just a warning that only those over 21 could use the service and that an "adult signature" would be required upon delivery.
A tip was optional, but if you do — and you should — you have to put it on your credit card. I was assured that 100% of the tip would go to the delivery person. Amazon recommends $5.
One interesting feature is that you can adjust your tip for up to 48 hours after delivery.
My total bill was $34.98: $29.98 for the wine and $5.00 for tip.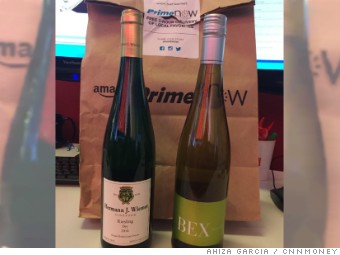 I received another alert at 2:06 p.m., when my order was sent out for delivery.
By 3:19 pm -- way faster than two hours -- my wine was delivered by a woman named Catalina.
She asked to check my ID. I signed that I'd received the delivery, and the two bottles of wine were all mine.
It worked. Quick. Simple. Drink up!