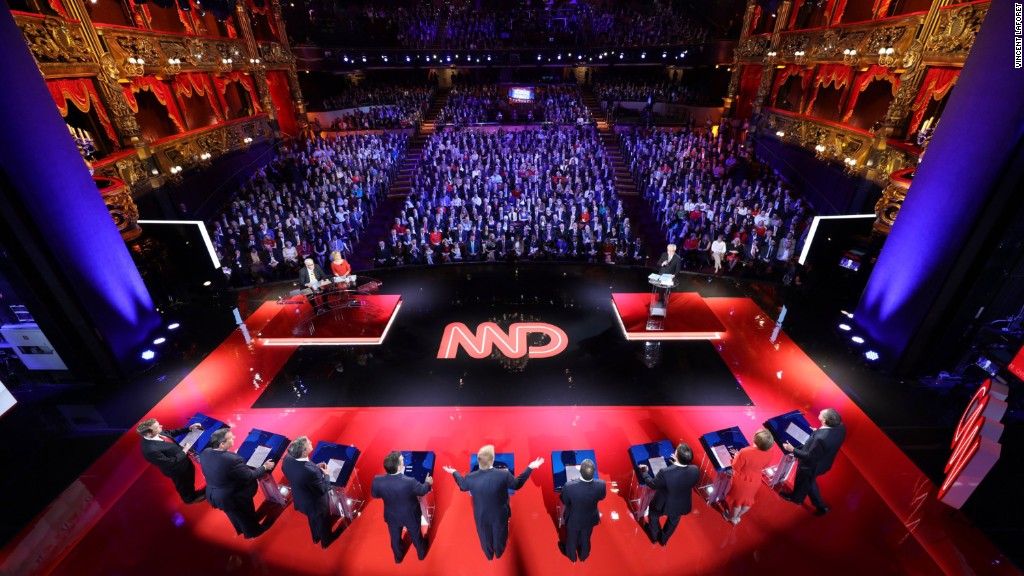 The fifth Republican presidential debate featured several rounds of intense sparring between the candidates, but attacks on the media were notably absent.
With few exceptions, CNN's Wolf Blitzer led a two-hour debate that was free from the usual anti-mainstream media broadsides that have characterized so many of the previous debates. Instead, the candidates went after one another: Jeb Bush went after Donald Trump, Ted Cruz tangled with Marco Rubio, Chris Christie tried to take on all of the above.
Blitzer and his co-questioners Dana Bash and Hugh Hewitt were widely praised for their handling of the debate by journalists and other viewers on Twitter. They were especially lauded for calling out candidates when they refused to answer questions.
"Good for @wolfblitzer for pressing Cruz on a very easy applause line," The New York Times' Alex Burns tweeted. And later: "Bravo to @DanaBashCNN for pressing Rubio on a part of his record that's been bizarrely unscrutinized in previous debates."
Related: Matt Drudge and Ann Coulter attend GOP debate together
But the media didn't get off completely free. At one point, Trump criticized CNN for spending so much time talking about him.
"I think it's very sad that CNN leads Jeb Bush by starting all the questions with 'Mr. Trump this, Mr. Trump this,'" he said. "I think it's very sad. I think it's very sad... I watched the first debate ... I thought it was unfair that virtually the entire early portion of the debate [was] Trump this Trump that, in order to get ratings."
Related: 'House of Cards' President Underwood makes appearance during GOP debate
The moderators also received the usual complaints from candidates who said they didn't get enough speaking time: "Sorry, you haven't gotten to me," Fiorina said at one point.
But by and large the debate was focused on the issues, and not on the moderators. And that's a rare feat in a Republican primary where candidates have relied on anti-media attacks as an easy applause line.
The media became such an issue during the debate hosted by CNBC in October that the candidates criticized the moderators and scoffed at their questions.