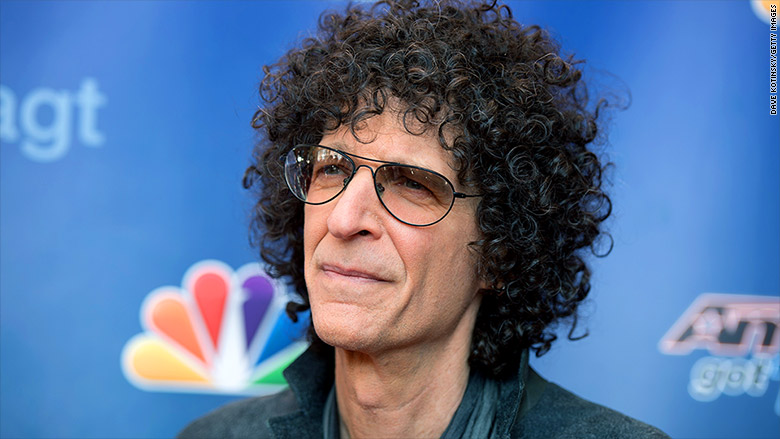 Howard Stern brought an end to speculation about his future on Tuesday morning, announcing that he has re-signed with SiriusXM and will continue his show for another five years.
Stern told listeners that he wanted to remain with Sirius (SIRI), the satellite radio company he first joined in 2004. He re-signed with the company in 2010 for a reported $80 million per year, but negotiations for a new deal came down to the wire. Stern's latest contract was due to expire on Wednesday.
"My inclination was to stay here, but I didn't know if it could all be worked out," Stern said on Tuesday. "And literally, yesterday when I told you I had no idea what we're going to be doing, I was telling you the truth. I wasn't 100% sure what the f--- we were going to be doing."
With the clock ticking on his contract, Stern said he was eager to strike a deal before he and his crew go off the air for a holiday break.
"Honestly, I didn't have many doubts that we would [stay with Sirius]," he said. "It's a very good company to be with."
In a press release, Sirius outlined the "new long-term agreement," which also includes a 12-year deal "for use of Stern's extensive audio and video library drawn from performances, specials, and shows spanning his more than 30-year broadcasting career."
Sirius CEO Jim Meyer hailed the deal as a "unique and pioneering agreement."
During his show on Tuesday, Stern promised "a lot of innovation and creativity coming down the pipeline," including an app that will offer a live video stream of the radio show.
After announcing the decision, Stern spoke glowingly of his colleagues. He called Meyer a "gentleman" who is "simpatico with talent," and said he works with the "best crew in broadcasting." And Stern shared an emotional moment on-air with his longtime co-host, Robin Quivers.
"I wasn't prepared to give up my team and walk away because they're great and they make it fun," Stern said. "I have a good time."
Before Stern revealed his decision, he spoke fondly about his transition from terrestrial radio, where for years he racked up big fines from the FCC. When satellite radio emerged, offering a platform that would be free of censorship, Stern said it "sounded like a dream come true."
"We came here," Stern said, "and it's been nothing but a pleasant experience."