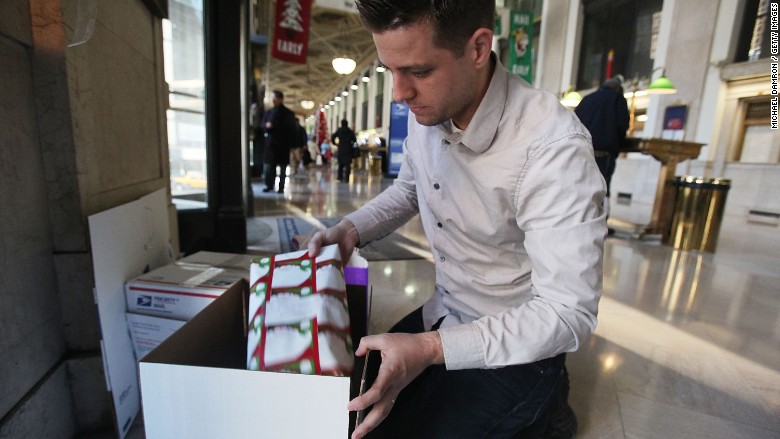 Monday was the U.S. Postal Service's busiest day of the year thus far.
And today is the last day to send something via standard mail for guaranteed delivery in time for Christmas. All the other major carriers have also issued cutoff dates to ensure that packages make it under the tree.
Monday was the deadline for FedEx SmartPost, which is the most basic option for home deliveries. To use FedEx Home Delivery, which typically takes between one and five days, the cutoff is Wednesday.
UPS customers have until Friday to take advantage of 3-Day Select delivery. The cutoff for ground and standard delivery was December 10.
The shipping crush is being exacerbated by the fact that more people are shopping online. In fact, online orders between Thanksgiving and Cyber Monday rose 15% from last year.
Related: Why you're still paying a fuel surcharge at FedEx and UPS
Perhaps as a result, on-time delivery rates for both UPS (UPS) and FedEx declined in the first week of December. Only 91% of UPS deliveries made it one time, while FedEx (FDX) was on time 95% of the time.
Making matters worse, there is a shortage of workers.
UPS told CNNMoney last week that it has yet to hire all of the 90,000 to 95,000 seasonal workers it plans to add to meet shipping demands. That isn't going to be an easy feat -- the unemployment rate is at 5%.