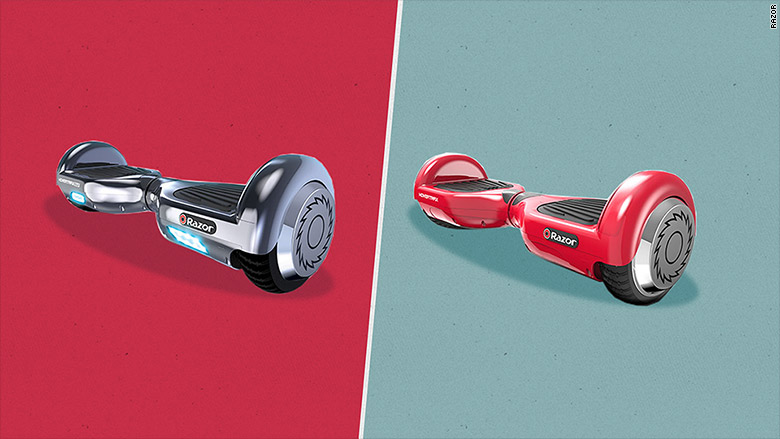 Razor USA, the company behind the wildly popular scooters, has high hopes for its version of the hoverboard.
Its Hovertrax board started selling earlier this month and is more than doubling its sales daily, according to founder and CEO Carlton Calvin, who declined to disclose exact sales figures.
That's welcome news to Calvin and his team, especially given the recent controversy around the two-wheeled self-balancing rides.
On Monday, the Consumer Product Safety Commission announced it was investigating hoverboards after receiving reports that a few had caught on fire.
Retailers like Amazon (AMZN) and Overstock have banned many brands of hoverboards until the safety concerns are resolved, as have airlines like Delta (DAL) and United (UAL).
Hovertrax, which sells for $600 - $700, has not been banned, and Calvin called the banned devices, many of which are priced as low as $200, essentially "knockoff" products. (Brands like Jetson and Hover X are also still available on Amazon.)
Calvin would not disclose what differentiates Hovertrax from the banned devices, except to say that his product uses a superior lithium battery and shatterproof frame.
"These safety concerns are not affecting us," said Calvin. "Ours is a certified product that meets its safety requirements."
Related: 'Hoverboard' fires being probed by feds
While people have called the Hovertrax and similar devices "hoverboards," it's not actually an accurate term since there's no "hovering" involved.
The motorized Razor Hovertrax (made in China) uses gyro-sensor technology that lets riders move it in all directions by shifting their weight around. Calvin said Razor acquired the rights to Hovertrax from inventor Shane Chen, who holds the patent for a "two-wheeled self-balancing personal vehicle."
Related: Commute to work on a one-wheeled scooter
With Razor scooters, and now with Hovertrax, Calvin hopes to redefine urban commuting.
"I don't own a car," said Calvin. "I'd like to see a world with no cars. I want to see more people using scooters, bicycles, Hovertrax to get around."