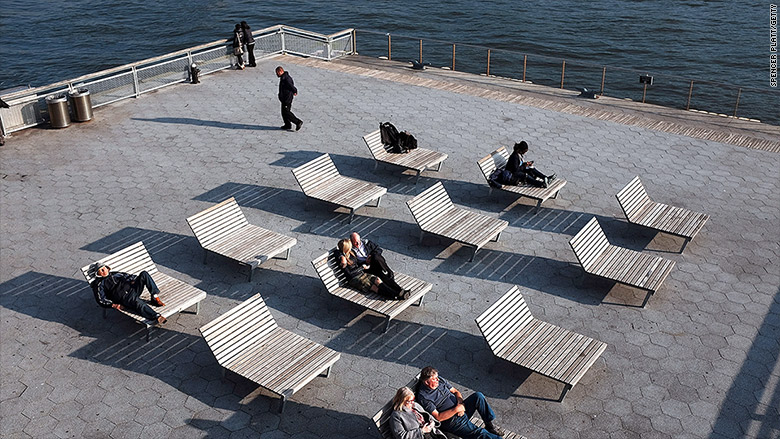 Everyone loves this warm weather except retailers.
All those recent photos of friends outside in shorts frolicking in parks and throwing BBQ parties mean one thing: people aren't in the stores.
Just ask H&M. The popular fast fashion chain just put out depressing sales figures for November. It's the same story everywhere from Macy's (M) to the Gap (GPS). They're all blaming the weather.
People don't need new clothes when they can still wear what they were wearing in September.
The good news for consumers is that prices are likely to plunge once we get into winter. Walmart (WMT) won't be the only one with the price "rollbacks." Many more stores will be adopting that mantra, especially those that sell clothing.
Retailers "have too much inventory. The only way to deal mwith that is to try to clear it at lower prices," says Bridget Weishaar, senior equity analyst at Morningstar. El Niño, that warm ocean water phenomenon, is turning into a great coupon.
Sweaters, hats and scarves are normally popular holiday gifts, but not this year. Black Friday deals could soon look like the high prices of the season.
It's not just anecdotal. Official government statistics out this week show clothing was cheaper this November than the same month last year.
Related: Where's winter? Record-setting warmth on tap for much of U.S.
The continental U.S. has had the warmest autumn on record. Last weekend about 75% of Americans enjoyed balmy temperatures of 60°F or higher.
Consider Buffalo, New York. It made headlines last year for being buried in 6 feet of snow as early as November. This year, the city has had its longest running period ever with no snow at all.
Of course, retailers often blame the weather to explain poor sales. It's almost like the dog-ate-my-homework excuse. In recent years CEOs blamed weak sales on too much snow. Now the problem is too much sun.
But experts say the big chains might have a better case to make this year.
"It's more legitimate this year. It seems to hitting a wide swath of geographies," says Weishaar.
Wall Street is taking the "hot air, cool sales" problem seriously. Macy's stock is down 46% this year, Gap and Ralph Lauren (RL) are 38% lower and Bed Bath & Beyond (BBBY) and Nordstrom (JWN) are off more than 30%.
This was supposed to be the year when retailers saw a nice bounce in sales as more people found jobs and enjoyed $540 in gas savings. Surely they would spend some of that money.
But it might take very deep discounts to lure consumers away from sunbathing and into shopping.