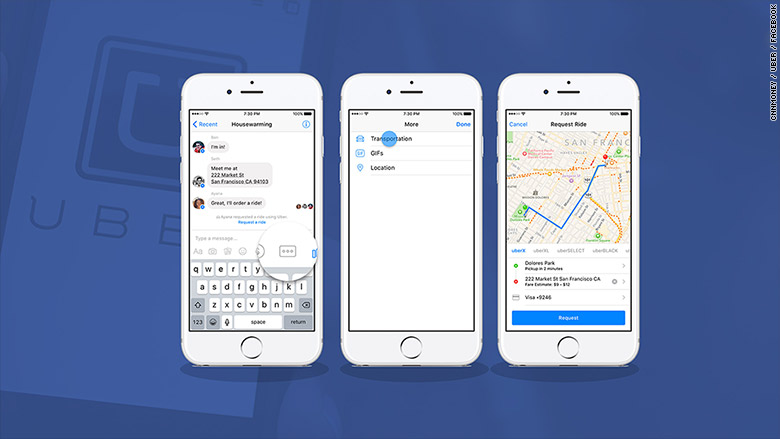 It seems like an inevitable match.
Facebook, the world's largest social network with 1 billion users, is teaming up with Uber, the most valuable startup in the world valued at more than $50 billion.
Facebook is testing the ability to book an Uber car directly from inside the Messenger chat app. The new feature is the first transportation partnership for Messenger, but Facebook hopes to add other ride-hailing companies in the future. It is rolling out slowly to users in the United States at first.
The idea seems to be that people use Messenger to coordinate plans, like asking your BFF if they want to meet for lunch. Instead of having to navigate to an entirely different app on your smartphone (the horror!), you can do it mid-conversation.
The partnership also appears to be a clever way for Facebook to import and save users' payment information for other Facebook-based purchases.
By default, signing into your Uber account will give Facebook access to all the payment information you've shared with Uber. A sign-in screen says you agree to let Messenger "access and store your Uber payment info for future purchases you make with merchants other than Uber." You can opt out by editing your preferences before agreeing and unchecking this option.
To promote the partnership, Uber is offering the first ride for free, up to $20.
An Uber partnership makes sense for Messenger. Facebook (FB) has big plans for the app and wants it to be a hub for a variety of services and third-party apps.
You can already use it to send money to friends and track online purchases. In August, Facebook started testing M, an AI and human-powered text-based assistant that can buy flowers, make reservations, and draw pictures on demand.
Last year, the company controversially killed messaging in its main apps, forcing people to download the standalone Messenger app. The outrage seems to have subsided. As of July, Messenger had more than 700 million users.