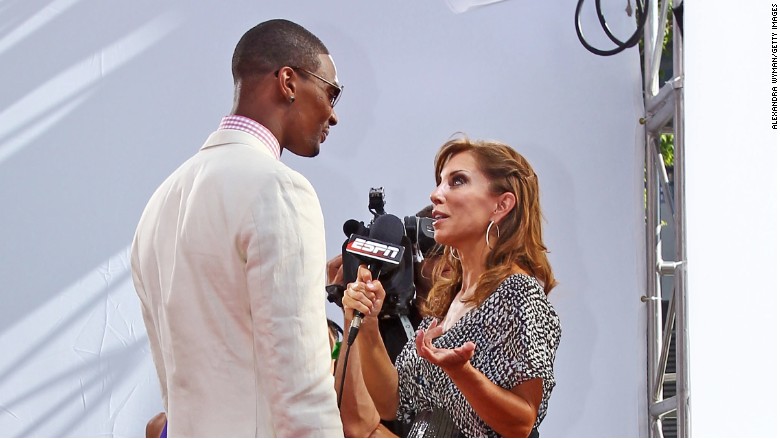 Veteran sportscaster Colleen Dominguez is suing FoxSports1, claiming she was benched because of her age and gender.
Dominguez, 54, was hired by the network on March 1, 2014, and covered the 2014 NBA playoffs for the network. Since then, she claims in a court filing, she has been passed over for younger women or older men, and was not assigned to the 2014 NHL playoffs or last year's Super Bowl.
She cites as an example that Holly Sonders, "subtantially younger than Dominguez [and] has no experience with the NFL," was assigned to cover the NFL this season.
The suit was filed in federal court in Los Angeles and is seeking unspecified damages. It does not name any individuals as defendants.
The suit claims that Dominguez does not know who is responsible for "conspiring" to sideline her, but the paperwork says she hopes to add specific names later.
Dominguez worked for NBC and ESPN before she was hired by Fox Sports.
She was assured she would be a "key personality of Fox News," the suit claims.
The suit states that despite a lack of assignments in 2015, she arranged for interviews with pitcher Madison Bumgarner and golfer Rory McIlroy, but the network turned down the interviews saying it would "muddy the waters" for other reporters.
Fox Sports did not reply to a request for comment.
Sign up for the Reliable Sources newsletter — delivering the most important stories in the media world to your inbox every day.