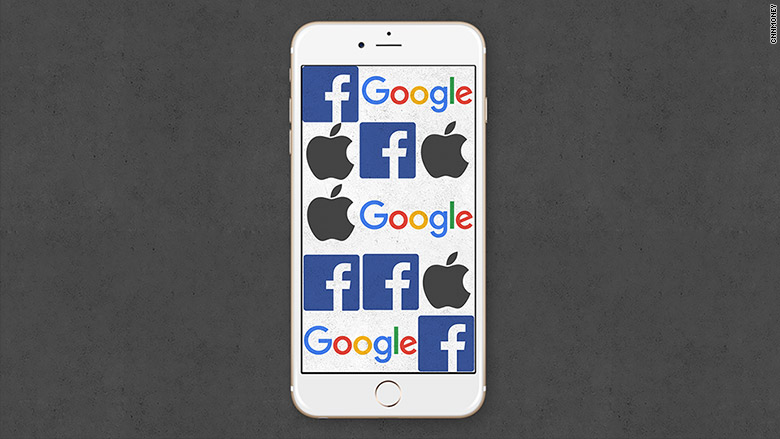 The 10 most-used apps of the year in the U.S. were all made by three companies -- Facebook, Google, and Apple.
Notably absent is Microsoft, one of the largest software makers in the world by revenue.
In 2015, Facebook (FB) apps took three of the top 10 spots, including the No. 1 position, according to a new Nielsen report.
The main Facebook app had the highest average number of monthly users for the second year in a row.
Facebook Messenger was the third most-used app, up from seventh place last year. And Instagram came in at No. 8 on the list, moving up one place on the rankings.
Google (GOOGL) had five of the top 10 apps: YouTube (No. 2), Google Search (4), Google Play (5), Google Maps (6), and Gmail (7).
Apple (AAPL) rounded out the bottom of the rankings with two apps: Apple Music and Maps.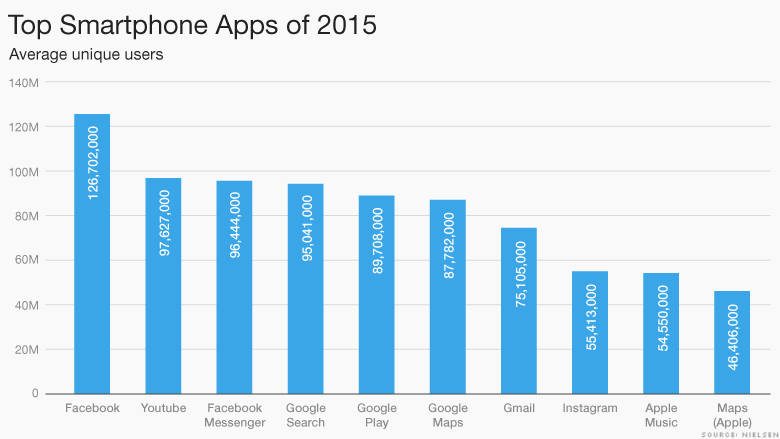 Microsoft cares about lists like this for an important reason. They paint a very clear picture of what people need and want their phones to do -- and it's not the stuff that Microsoft builds.
Microsoft did not respond to requests for comment.
To its credit, Microsoft (MSFT) has been doing a commendable job of building a mobile-friendly bundle of products, including free versions of its uber-popular Office 365 suite of apps.
With Windows 10, apps that developers write for the PC will also work on Microsoft's phones. That could help the platform bust out of its longstanding "chicken and egg" problem: Too few people have Windows phones for developers to care about making apps for the platform, and customers don't want to buy Windows phones because they don't have enough apps.
But Microsoft is one of the biggest software companies on the planet. To not be in the top 10 on mobile has got to hurt.
Google and Apple's presence on the list makes sense, since their apps are native to their phones. People don't have to download the Gmail app to use it on an Android phone or Apple Music on an iPhone.
Even if Windows never takes off on mobile devices, Microsoft should be encouraged by Facebook's success.
Without its own mobile operating system, Facebook is still dominant on mobile. People choose to download and use Facebook and Instagram on their own regardless of which device they have.
-- CNNMoney's David Goldman contributed to this report.