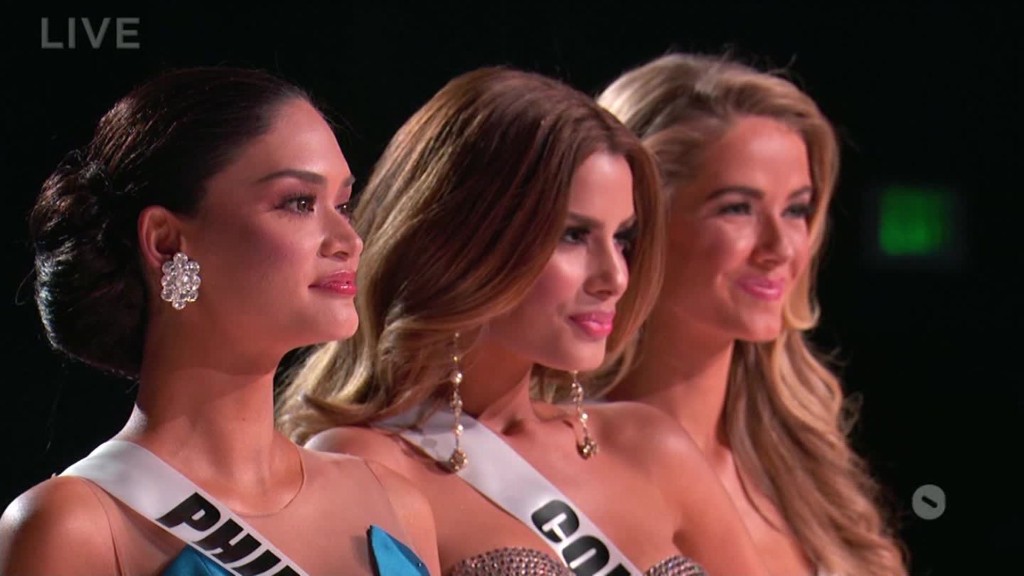 Donald Trump, who sold his stake in the Miss Universe pageant earlier this year, thinks Miss Colombia and Miss Philippines should be named "co-winners" in light of Sunday night's crowning mistake.
Miss Colombia, Ariadna Gutierrez, was briefly named the winner before the host Steve Harvey corrected himself and said the real winner was Miss Philippines, Pia Alonzo Wurtzbach.
On NBC's "Today" show Monday morning, Matt Lauer asked Trump what his solution would have been.
"I'll tell you what I think I'd do. I think I'd make 'em a co-winner. It'd be very cool," Trump said.
"I would recommend that they go have a beautiful ceremony, which is good for the brand and good for Miss Universe, and do a co-winner," he added.
Trump also suggested, via his Twitter feed, that Harvey's screw-up wouldn't have happened if he was still involved.
"Very sad what happened last night at the Miss Universe Pageant," he tweeted. "I sold it 6 months ago for a record price. This would never have happened!"
Trump actually sold the Miss Universe and Miss USA pageants three months ago.
It was an awkward moment for the businessman because a campaign controversy had imperiled the pageant organization.
The pageants were co-owned by Trump and NBCUniversal. But NBC broke off its ties with Trump in June amid widespread criticism of the candidate's comments about Mexican immigrants. The network decided not to televise the Miss USA pageant in July.
Trump indicated that he would take legal action against the network, but the dispute was resolved in September when he purchased NBC's half of the pageant organization.
Then he promptly sold it to the giant talent agency WME/IMG.
"My friend, @AriEmanuel of @IMG, bought the Miss Universe pageants from me and they are on tonight on #Fox! Tune in!" he tweeted on Sunday night before the snafu.
Trump said on "Today" that the new owners are "tremendous people" and that Harvey is a "great guy."
It was a "terrible error," he said, but "things happen. It's live television."