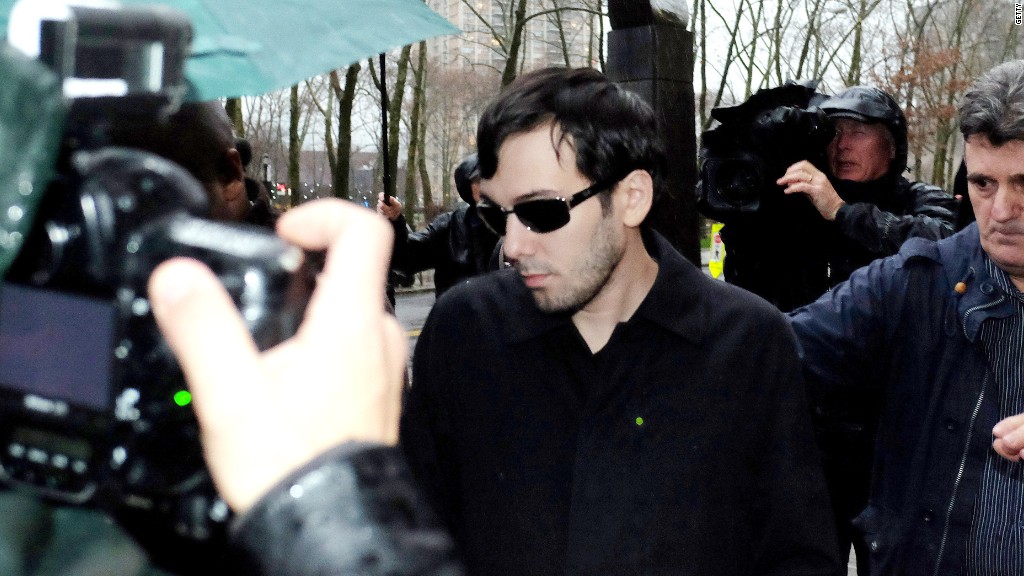 Martin Shkreli has been booted from yet another drug company.
It's the third time the troubled CEO has had to vacate a company's top spot in a little more than a year.
He was arrested last week on federal securities fraud and conspiracy charges.
KaloBios, a small, struggling company that develops cancer drugs, had named Shkreli as CEO just a month ago when he bought a majority stake in the company. It announced Monday that he was terminated as CEO on Thursday, the same day he was arrested by the FBI on allegations he misappropriated cash and stock from Retrophin.
Retrophin (RTRX), which fired him more than a year ago when it was first alleged that he misappropriated funds. He then started another drug company, Turing Pharmaceuticals, and where he made headlines by hiking the price of a life-saving drug by more than 5,000%. He resigned as CEO of Turing on Friday.
Related: Martin Shkreli - I was arrested for hiking drug prices
Shkreli has maintained his innocence, arguing he has been targeted by federal authorities due to the drug price hike at Turing. He is free on a $5 million bond.
KaloBios (KBIO) was close to shutting down before it announced Shkreli's investment on Nov. 19. Shares soared that on news of his investment, but plunged 50% Thursday in premarket trading on reports of Shkreli's arrest. Trading in KaloBios shares was halted that day and has yet to resume.
It then halted trading before the market open and has yet to begin trading again.