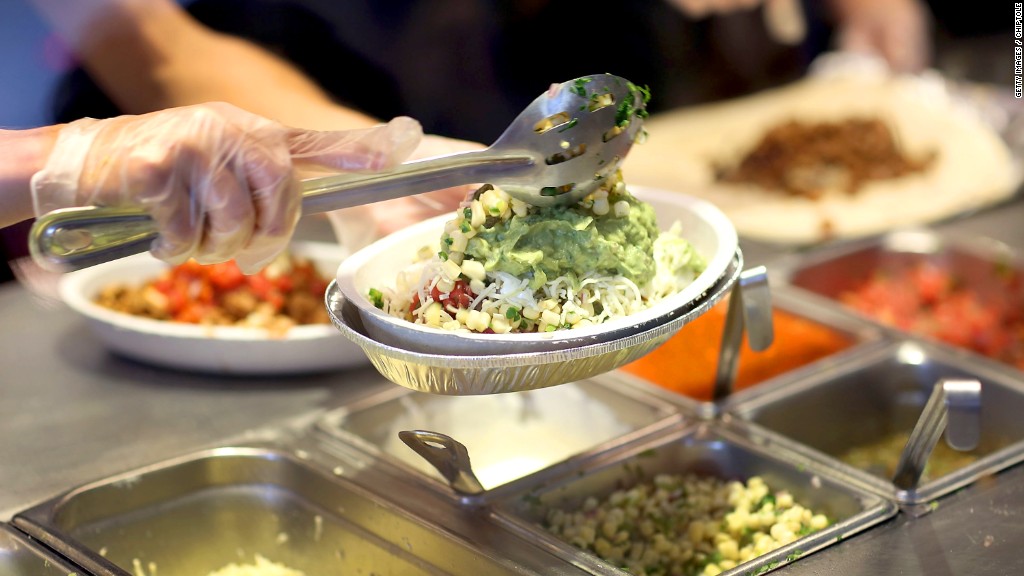 Wall Street is very very worried that those long lines at Chipotle around lunchtime may be a thing of the past following reports of more E. coli cases tied to the popular Mexican food chain.
Shares of Chipotle (CMG) fell 5% Tuesday and dipped below $500 for the first time since May 2014 after the CDC said Monday afternoon that there may be a new, unrelated E. coli outbreak.
The CDC said that it "is investigating another, more recent outbreak" reported in three states (1 in Kansas, 1 in North Dakota and 3 in Oklahoma) that appears to have a "different, rare DNA fingerprint" of the E. coli bacteria strain.
All five people said they ate at a Chipotle in the week before they got sick, according to the CDC.
Related: New E. coli cases linked to Chipotle
The illnesses started between November 18 and November 26 -- weeks after the outbreak that was first reported in late October in Washington and Oregon. For this reason, the CDC said it is not including these new cases as part of the first outbreak.
The CDC also said there was one new E. coli case reported that was related to the original outbreak. The CDC said that there are now 53 reported illnesses in nine states.
A spokesperson for Chipotle told CNNMoney that its food safety experts "are actively working with the FDA and CDC on their investigation to determine the cause for all of these cases."
Chipotle has taken several steps since late October to identify the source of the E. coli bacteria. Co-CEO Steve Ells even went on NBC's Today show on December 10 to tell Matt Lauer about some of them.
The Chipotle spokesperson said that ""we have completed a comprehensive reassessment of our food safety programs with an eye to finding best practices for each of the ingredients we use." The spokesperson added that "we expected that we may see additional cases."
But Chipotle also continued to stress that "we are confident that we can achieve a level of food safety risk that is near zero."
Chipotle investors don't appear to be convinced though.
Related: The dangers of E. coli explained
The stock, once a Wall Street darling thanks to quarter after quarter of strong sales growth, is down 27% this year.
Chipotle shares have plunged 22% since the reports of the first outbreak in early November and are 34% below the all-time high they hit in August.
Sales growth was already starting to slow at Chipotle before the E. coli news. But the company warned earlier this month that it now expects sales to fall sharply in the fourth quarter because of the E. coli concerns.
And in an awful coincidence that couldn't have come at a worse time, dozens of Boston College students got sick after eating at a local Chipotle earlier this month. It turned out that a norovirus, and not E. coli, was the culprit.
But at least one Wall Street analyst is defending the company and thinks that all the bad news is already priced into the stock.
Related: Chipotle tries to move past a horrible year
BTIG analyst Peter Saleh wrote in a report Tuesday that "we believe the company has taken the appropriate steps to guard against future incidents." Saleh reiterated his buy rating on Chipotle and thinks the stock could rebound to $664.
Still Saleh conceded that sales are likely to be volatile in the near-term because the E. coli news is not going away.
Saleh added that it will be a challenge for Chipotle to figure out just exactly what went wrong. It may be more complicated than trying to find just one bad ingredient from one supplier.
"We believe the multiple outbreaks across various geographies and timeframes make a single supplier or product shipment increasingly unlikely as the cause," he wrote.
Needless to say, that's not good news. The longer that E. coli remains in the headlines, the more difficult it may become for Chipotle to win back customers.
Chipotle has become the butt of jokes on social media, with people tweeting and posting Instagram photos about how they hope to not come down with E. coli after eating a burrito bowl.
Related: Chipotle's reputation gets slammed
It doesn't help that you literally can't spell the word Chipotle without the letters E C O L and I.
And some analysts have speculated that customers may abandon Chipotle in favor of rival Qdoba, which is owned by Jack in the Box (JACK), as well as other so-called fast casual chains like Panera (PNRA) and Zoe's Kitchen (ZOES).
Chipotle still has many loyal customers. But they are being tested. It was one thing when the cases were isolated to just two states. Now even diehard Chipotle fans might be nervous.
"At this point, even rational and informed consumers could potentially be given reason to pause when choosing Chipotle over the plethora of fast casual competition in the marketplace," said JPMorgan analyst John Ivankoe in a report Tuesday.
Ivankoe downgraded Chipotle and cut his price target on the stock as well.