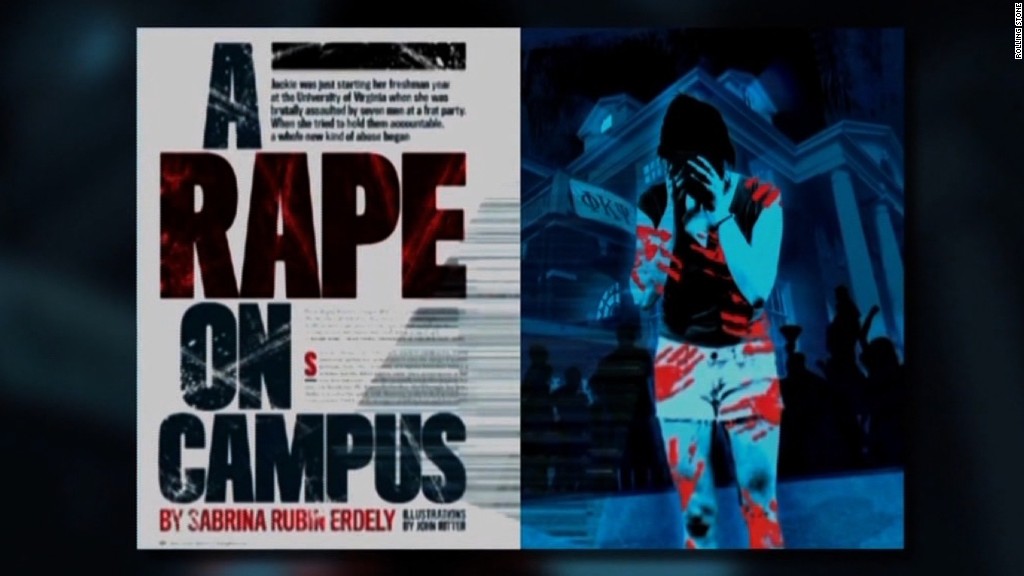 Rolling Stone is seeking to dismiss a libel suit by three former members of a University of Virginia fraternity who claim they were defamed in a published story about a frat house rape the magazine now admits never happened.
In a motion filed in the federal court case Wednesday, the magazine's attorneys argue that the three students were not identified in the discredited 2014 article.
"Rolling Stone takes seriously the reporting errors...and any lapse in its journalistic standards. But those errors have nothing to do with plaintiffs or their claims," said the motion. "The article does not refer to plaintiffs by name, nor does it describe them physically or provide biographical information about them."
The article, "A Rape on Campus," centered on claims from a woman identified only as "Jackie" who claimed she had been the victim of a horrific gang rape that went on for hours in a bedroom of the Phi Kappa Psi during a fraternity party. After it was published, questions were raised about its veracity. Following an investigation, Rolling Stone admitted that the rape never took place.
Related - Rolling Stone apologizes for rape article. What now?
The suit was filed by three former PKP members -- George Elias IV, Stephen Hadford and Ross Fowler -- who graduated after the rape was reported to have taken place but before the article appeared. In the article the victim is told by a dean at the school that all of her assailants had already graduated. Elias also argued he lived in the only room in the fraternity that was big enough for such a large gathering of assailants.
The suit by the former frat members does not specify the amount in damages they are seeking.
In addition to their lawsuit, the magazine faces a $25 million suit by the fraternity, and a $7.5 million libel suit by the UVA dean who was named in the article.