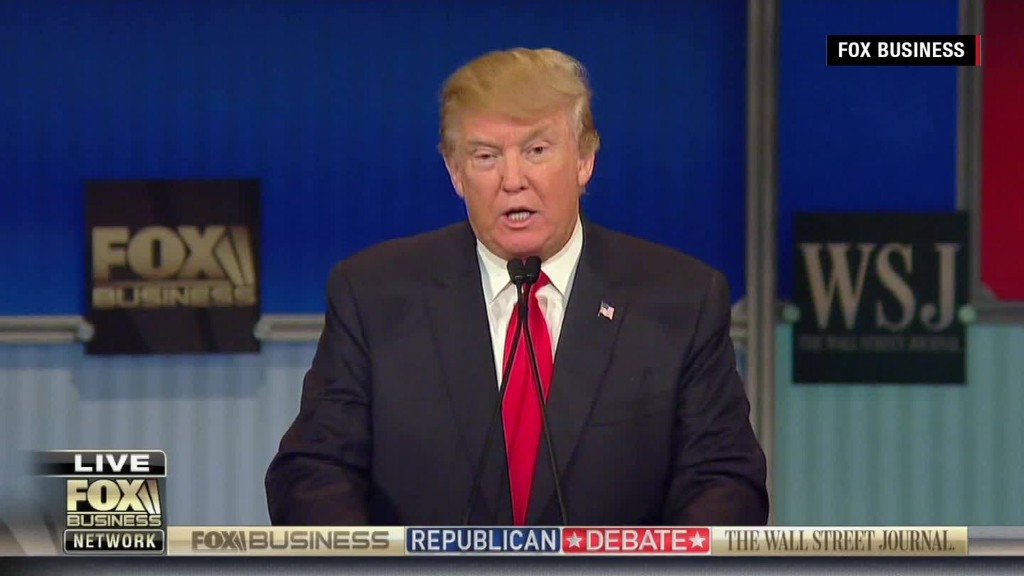 The publisher of The New Hampshire Union Leader says Donald Trump has been lying to voters about his efforts to win the paper's coveted endorsement.
In an interview with CNNMoney Monday, Joseph McQuaid called the Republican frontrunner "dishonest and terribly confused," and said Trump was attacking the Union Leader because he had lost the endorsement to New Jersey Governor Chris Christie.
"He was upset not to get our endorsement," McQuaid said.
The remarks were the latest volley in an ongoing tiff between Trump and McQuaid, which began when the publisher penned an editorial likening the GOP hopeful to Biff Tannen, the foulmouthed bully from the "Back to the Future" movies.
On Monday, Trump slammed McQuaid as a "bad guy" and "a real lowlife" during an interview with New Hampshire's WMUR, and said McQuaid was "doing a terrible job" running the Union Leader.
McQuaid called Trump's remarks "a monologue tirade."
Related: Trump says wages are too low
"He says I'm a dishonest man. It's he who is being dishonest and terribly confused," McQuaid said.
For instance, McQuaid said Trump was lying when he suggested that the Union Leader had sought a meeting with him before deciding on the paper's endorsement.
"He says I reached out and asked him to have lunch with me. Well, I got the emails from his assistant and it's all about him reaching out to have lunch with me," McQuaid said. "One can only wonder why that would be so before we gave out our endorsement."
McQuaid also took issue with Trump's suggestion that he was Christie's "puppet," and had colluded with the New Jersey governor on the editorial.
"I write my own editorials," McQuaid said.
Related: Would 'President Trump' be good or bad for stocks?
Trump had also suggested that McQuaid had a vendetta against him because he did not attend a Union Leader-sponsored candidate forum in August.
"We had 14 presidential candidates participating," McQuaid said. "I'm grateful he didn't do the debate, because it was hard enough trying to get 14 candidates in order."
"After that debate, Trump sent me a letter, which I kept," he continued. "It basically said, 'Dear Joe, your event sucked. Everybody said I was brilliant not to be in it. Please endorse me."