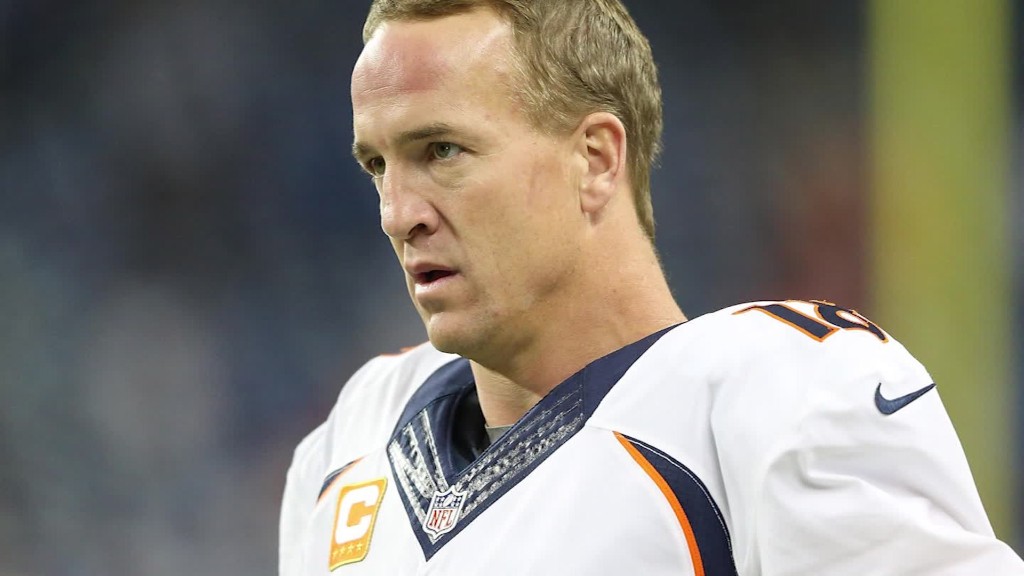 Papa John's said Tuesday that it is standing by Peyton Manning, its prime celebrity spokesman, amid doping allegations.
Manning, considered to be among the greatest quarterbacks of all time, is the NFL's most successful commercial pitchman.
"During the course of our relationship, Peyton has represented himself, the game of football and Papa John's with the utmost honor and integrity," Papa John's (PZZA) said in a statement, calling Manning "a trusted friend."
Papa John's said "it is a shame for all his hard work, to have one of the greatest come backs against all odds, that he has to deal with these allegations."
Manning, who missed the 2011 season because of a serious neck injury, was the center of an Al Jazeera America documentary this weekend claiming he had procured drugs banned by the league.
Other Manning sponsors -- Nike (NKE), Gatorade, DirecTV (DIRV) and Nationwide Insurance -- have not responded to requests for comment from CNNMoney.
Manning strongly denied the allegations in the documentary. His current team, the Denver Broncos, and the Colts, who he played with for more than 10 years, have issued statements supporting the quarterback.
"Knowing Peyton Manning and everything he stands for, the Denver Broncos support him 100%. These are false claims made to Al Jazeera, and we don't believe the report," the team said Sunday.
--CNNMoney's Chris Isidore contributed to this report.