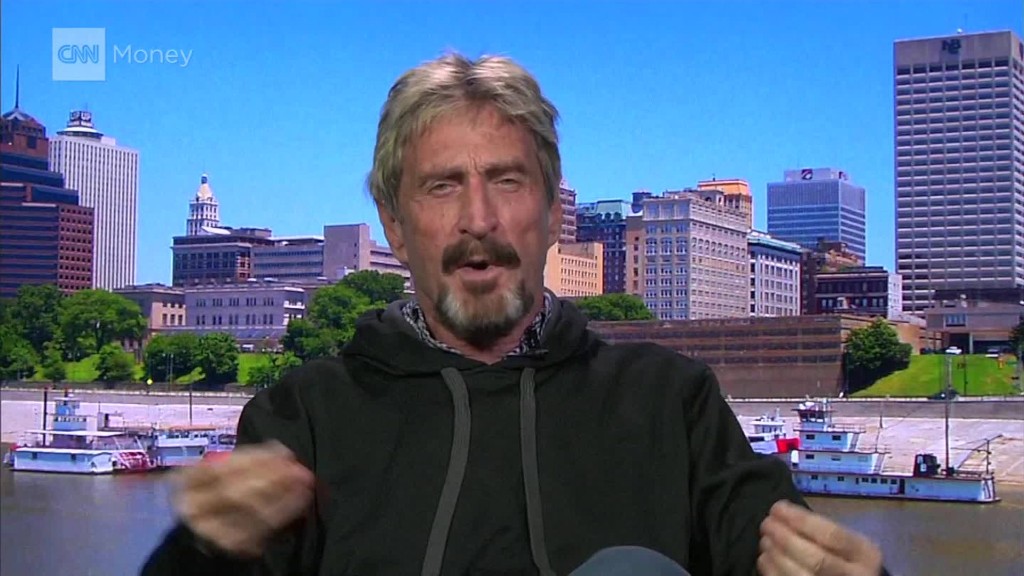 Fugitive presidential candidate John McAfee is going back to his roots with a new security product that he calls "a f---ing game changer."
McAfee, who fled Belize after police tried to question him for murder, says that he is the "chief evangelist" for a new technology that can replace your passwords, log you into websites, unlock your phone and even open your digital door locks.
It's called "Everykey," and it's raising funds from backers on Indiegogo. It's a thumbnail-sized gadget that sits in your pocket and wirelessly connects to your phone, laptop and digital door locks.
When you approach the device or door you want to unlock, Everykey automatically unlocks it. When you step away, it locks again.
"When our team first conceptualized Everykey, security was a top priority," McAfee comments. "This is a f---ing game changer."
McAfee, who is running for president in 2016 as a Cyber Party candidate, says Everykey uses military-grade encryption and features other enhanced security protocols, such as the ability to remotely freeze Everykey if you lose it.
The Indiegogo campaign has already raised $62,000 in crowdfunding, stretching way past its $20,000 goal.
In the video, McAfee spoofs the DirecTV commercials by showing a split screen of himself using Everykey and himself keeping a long list of written down passwords and a giant janitor's keyring.
McAfee, who no longer has ties to his namesake antivirus software that he founded in 1987, has had a turbulent past few years.
In August, McAfee was arrested for DUI and possession of a handgun while he was under the influence. He has pleaded not guilty. In January 2014, he fled police in Belize who sought to question him for the death of his neighbor.