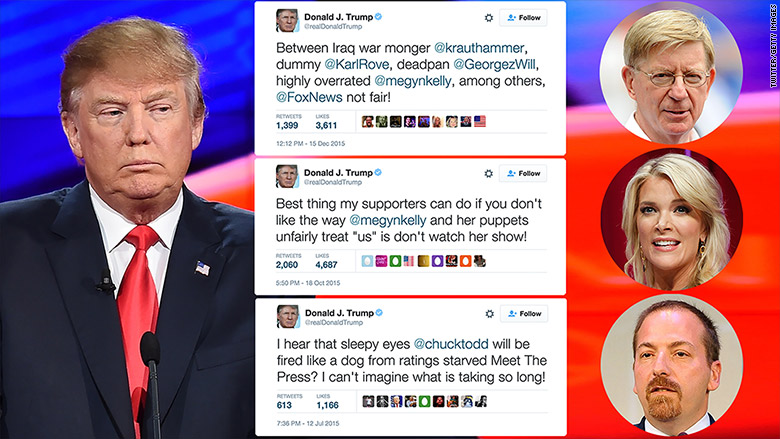 Donald Trump loves Twitter. He's also a news media obsessive. Trump has fused these twin passions for years, but 2015 was different for one pretty obvious reason.
As the leading Republican presidential candidate, Trump's Twitter feed has become something of a rapid response vehicle to the people covering his campaign.
CNNMoney trawled through the archives to see which members of the media were mentioned the most by Trump on Twitter in 2015.
We included tweets that were positive, negative and neutral. The primary stipulation was that they had to be written by Trump and they had to explicitly address the individuals either by their Twitter handles or their names. This excluded retweets and subtweets.
We also excluded Trump's references to television shows and outlets, eliminating the likes of @Morning_Joe, @oreillyfactor and @FoxNews.
The final result was a list of 10 anchors, pundits, editors and columnists who found themselves at the center of Trump's 140-character observations more than any of their peers.
"Yuge" number of mentions:
Megyn Kelly (26), Sean Hannity (21), Chuck Todd (16)
The tallies for Hannity are a bit inflated. Most of his mentions came when Trump was promoting his appearances on his Fox News program.
The other individuals in this category had their names splashed across Trump's feed largely because they drew his wrath. And no member of the media angered Trump in 2015 more than Kelly, the Fox News anchor who co-moderated this year's first Republican presidential debate.
Ever since the two tussled on the debate stage, Trump has repeatedly gone after Kelly, tweeting at her more than two dozen times this year. His most recent outburst came two weeks ago, when he called Kelly the "most overrated anchor" at Fox.
Trump continued his hot and cold relationship this year with Todd, at times showing graciousness to the "Meet the Press" moderator and other times engaging in ridicule.
The usual targets and promotions:
Charles Krauthammer (12), Greta Van Susteren (11), George Will (10)
Krauthammer and Will, the syndicated columnists, Fox News contributors and titans of the conservative establishment, have pilloried Trump's presidential aspirations all year. Trump has responded in kind with several Twitter tirades.
In a tweet earlier this month, Trump lashed out at Karl Rove, Kelly, Krauthammer and Will. There was just one problem: Trump included the Twitter handle @GeorgeZWill, which belongs to a woman named Georgina Williams, not the conservative columnist.
Trump actually thanked Krauthammer in August for his "nice comments" on the O'Reilly Factor. Days later, Trump tweeted that "dopey" Krauthammer "should be fired."
Like Hannity, Van Susteren's mentions have been padded by Trump's promotion of his appearances on her Fox News show. An exception came in August, when Trump tweeted his thanks to Van Susteren after she highlighted his financial support to Andrew Paul Tahmooressi, the Marine reservist who was held in a Mexican jail for seven months.
Those who were hard to ignore:
Bill Kristol (6), Brian Williams (5), Erick Erickson (5), Arianna Huffington (5)
Kristol, the editor of the conservative Weekly Standard, isn't thrilled by Trump's candidacy. He even said he would likely back a third-party bid if Trump were to land the GOP nomination. The ill-will is mutual. Trump has called Kristol "dopey" and a "sad case," while dismissing the Weekly Standard as a "small and slightly failing magazine."
At times, Kristol has tried to needle Trump -- like he did with a tweet in October. "You're not a gentleman, @realdonaldtrump, and also not our next president," Kristol tweeted.
Trump's tweets at Williams provide a snapshot of news cycles that have come and gone. After the former "NBC Nightly News" anchor was suspended in February for his tall tales, Trump, whose distaste for Williams dates back to 2012, couldn't resist the opportunity to gloat.
Erickson and Huffington have each perturbed Trump for decisions related to the partisan news websites they founded. After the Huffington Post said that Trump would be relegated to the site's entertainment section, Trump called Huffington a "liberal clown" and a "dummy." Erickson, the founder of RedState.com, disinvited Trump from the site's annual conservative confab over remarks the candidate made about Kelly.
Since then, Trump has called Erickson a "low life" and a "dummy."