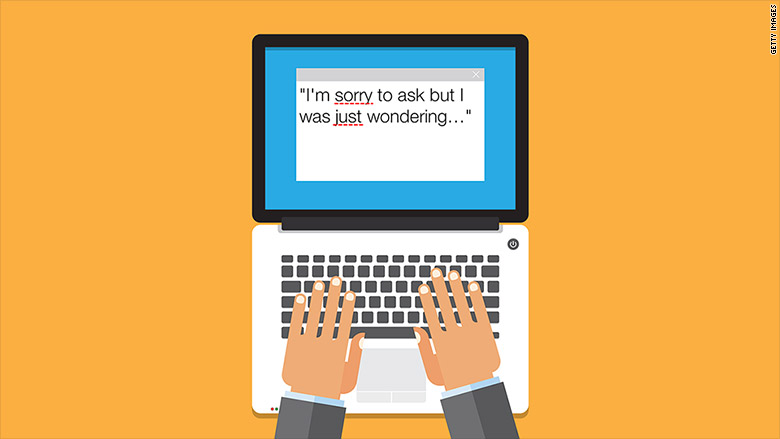 Stop saying sorry!
A new Google Chrome extension wants to help people avoid using words and phrases in emails that can make them sound less confident or assertive.
The add-on "Just Not Sorry" is available on the Google Chrome app store. It works by underlining self-demeaning or qualifying words and phrases in red -- they look similar to spelling mistakes.
Offending words and phrases include things like "sorry," "actually," and "just."
Users can also hover their mouse over terms that have been flagged to get explanatory quotes from women such as leadership expert Tara Mohr, business reporter Lydia Dishman and workplace consultant Sylvia Ann Hewlett.
And not to worry, the red underline won't appear in the sent message even if the word isn't changed -- it's simply meant to increase awareness.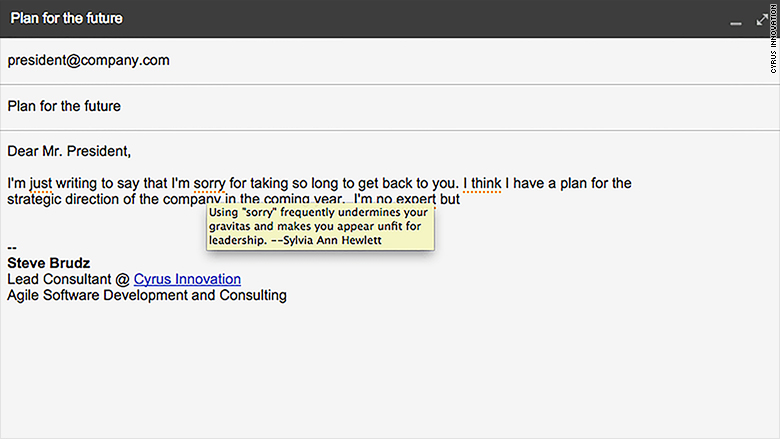 The extension was created by Tami Reiss, Steve Brudz and Manish Kakwani -- all members of Cyrus Innovation, a software development consultancy. It's a part of the company's Female Founder Initiative that works to empower female leaders.
The decision to develop the extension came to Reiss after she realized that a lot of people undermine their messages by not sounding confident.
"We hope this extension changes how people communicate," Reiss told CNNMoney.
The add-on launched Monday and has been downloaded nearly 30,000 times.
"We had set a goal of 10,000 downloads by the new year thinking people would make a resolution to come off as more confident," Reiss said. "We hit that mark on the morning of the second day."
The add-on can be customized because Cyrus Innovations put the open-source code on GitHub. Because of this, users can program it to flag additional words or phrases that might undermine their message.
One word of advice: refresh gmail after installing the extension to see the flagged words.