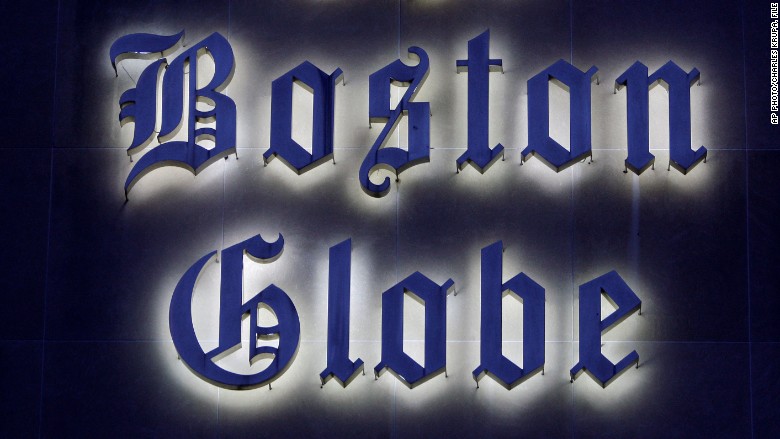 If you're a subscriber to the Boston Globe, the person who delivered your Sunday paper might have been the same person who wrote part of it.
Fed up after nearly a week of widespread delivery problems, dozens of reporters and editors at the Globe worked until dawn Sunday morning to deliver thousands of copies of the paper.
The Globe said it was a "small gesture to show our Globe customers that we are working hard" to address the problems.
Managing editors, political columnists, sports reporters, and web producers all showed up at the printing press around midnight.
Steve Wilmsen, an editor, tweeted that "pretty much the whole Boston Globe newsroom" was present: "Paper routes for a night."
Crime reporter Evan Allen posted a picture of metro reporter Milton Valencia pointing at his front page story.
"Now he is going to deliver it," Allen said.
The volunteer mission gave the Globe some very positive free publicity. But it was originally a response to growing frustrations.
The Globe itself reported that the trouble started on Monday when the company switched to "a new delivery company."
In a story on Thursday, the Globe said "missing papers" across the local area "prompted an outcry from readers, who vented on social media and overwhelmed the Globe's phone system with complaints."
The delivery delays continued into the weekend. Some reporters had actually volunteered to help earlier in the week, and it "looks like the offer has been accepted," technology reporter Hiawatha Bray told CNNMoney Saturday evening.
News of the ad hoc delivery strategy quickly spread among Globe staffers via email.
Volunteers will "get a route with a list of households with delivery instructions," Scott Steeves, the head of the Boston Newspaper Guild, told staffers in an email. "Make sure you have a flashlight and a GPS."
Wilmsen said an "army" of journalists was willing to help.
"I'm a Globe employee. I'm also a reader angry with 0 papers at home this week," NHL beat reporter Fluto Shinzawa tweeted. "I'll be out helping to get you Sunday's Globe."
Along with those from the newsroom, employees who work on the business side of the paper also pitched in. Altogether, "more than 100" volunteered for deliveries, according to the Globe. Others answered customer service phone calls.
Valencia, the front-page writer, picked out special gloves for his deliveries:
But first the volunteers had to bag the papers.
Then they loaded the stacks into the backs of cars and headed out on their assigned routes.
Two reporters included a note to subscribers introducing themselves and saying that "this is clearly not a long-term solution -- but we hope you can be patient as our top administrators sort things out."
Earlier in the week, the Globe's phone system "crashed" under the weight of delivery complaints, and reporters "found it difficult to call outside the building," according to Bray.
"Many readers got busy signals," Bray added. "One regular reader of my column managed to get through to me and begged me to do something. I and a bunch of my colleagues contacted our CEO and said that reporters were so concerned about the problem that we'd be willing to help deliver the paper."
Early Sunday morning, the Globe's vice president for consumer sales and marketing, Peter Doucette, confirmed that the paper had received "thousands of calls from customers" who missed their paper.
He said the company's new distributor, ACI Media, has been deploying "a new staff of 600 carriers who must learn new delivery routes and the addresses of the homes and apartments for every Globe home delivery subscriber."
Regarding home deliveries, he said, "we expect the process to improve not instantly, but steadily with each passing day and thank our customers for their patience."
In the meantime, a smattering of readers expressed gratitude to the newspaper staff via Twitter, and a couple joked about brewing coffee for their delivery person.
One Bostonian said overnight that he had just re-subscribed to the Globe as a result of the volunteer mission: "Proud of you guys!"
One family put up a "thank you" sign in the front lawn...
And another left a homemade sign on the front door.
Journalism professor Bill Mitchell, who lives in the Boston area, said in an email that he received not one, but two, copies of his Sunday Globe -- but no copy of The New York Times.
"Previously, one guy delivered both. On time. Until the Globe decided to improve things," he commented.
Since the "bulk of revenue" at papers like the Globe still comes from print, "it's mystifying that the Globe would move ahead with such a shift with apparently so little oversight of the new vendor," Mitchell said. "But leave it to an enterprising newsroom to step up to yet another unexpected demand of the digital era: Delivery of the dead tree edition!"