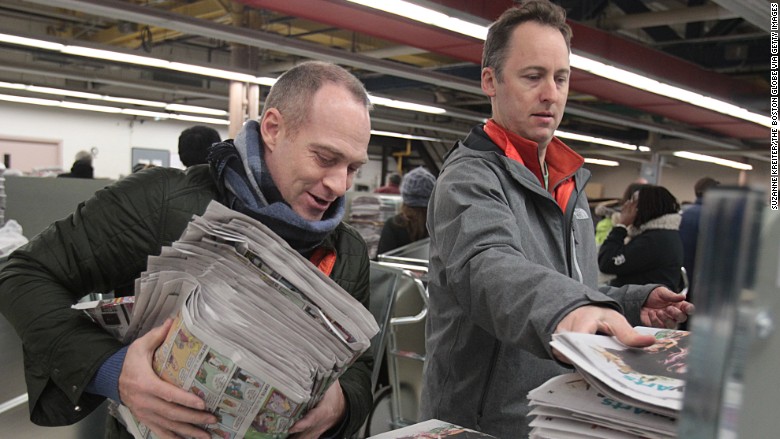 In a digital world, there are still many people who rely on print papers like the Boston Globe. And this past week has been downright disappointing and even aggravating for them.
"We haven't had a paper all week," Janet McCarthy of Lynn, north of Boston, said by phone Sunday.
It was just after 5 p.m. — certainly too late for her typical Sunday reading ritual. Janet, 64, usually grabs the local news section while her husband Roger, 73, devours the sports pages.
Roger "reads five or six papers a day. He needs his paper," she said.
For readers like Roger, the Globe is a cherished local news source. But the company's sudden change in delivery vendors cut off his access to the news.
The maddening distribution problems are a reminder that print — although obviously on the decline — remains critically important in the lives of some readers, particularly senior citizens.
Janet could still buy USA Today for Roger at the store, but not the Globe, because the delivery delays apparently extended to local newsstands. She unsuccessfully checked three shops on Sunday. "You can't buy it, 'cuz nobody's got it," she said.
Just then, the doorbell rang.
"Is that the paper?" Janet asked Roger.
It was. A Globe staffer, alerted by Janet's call to the paper's news desk, dropped off the Friday, Saturday and Sunday editions.
Subscribers like the McCarthys had been complaining of problems ever since Monday. Over the weekend, staffers decided to take matters into their own hands; about 100 reporters, editors and business side employees divvied up routes and delivered as many copies as they could, supplementing the vendor's workers.
Related: 'Paper routes for a night'
The volunteer effort generated a burst of positive P.R. for the Globe.
"It has been really eye-opening and gratifying to see this passionate commitment by subscribers to the print Globe," Brian McGrory, the top editor of the Globe, told CNNMoney Sunday night.
But longtime subscriber Matt Hausmann — who didn't receive his paper for seven straight days — faulted the company for not articulating a longer-term plan to solve the problems.
"Instead, they want me to go open my garage door every day with hope and expectations but instead experience yet another moment of disappointment," he wrote in an email message.
On Sunday night the Globe reported that executives met with the delivery vendor's managers, "but the day ended with finger pointing and no clarity about when" normal service would be restored.
"ACI Media Group Inc., which took over home delivery in Greater Boston last Monday, has yet to hire enough drivers to cover every route," the paper reported. "And many of ACI's new delivery routes lack any logical sequence, leaving drivers criss-crossing communities and making repeated trips to the same neighborhoods."
Indeed, the volunteers were baffled by the circuitous routes on Sunday morning. In some cases, deliveries took many more hours than expected.
Despite the best efforts of the staffers, some subscribers still didn't have their papers by mid-afternoon. Margaret Felice, who tweeted at a Globe reporter for help, said this is "not my first delivery issue, but certainly this most memorable."
Mary Alba, 97, of Revere, just outside Boston, said she was "very upset" when her Sunday paper didn't arrive.
A devoted Globe reader for decades, Alba doesn't drive, so she's always relied on home delivery. Getting the Globe via the Internet isn't an option. "I love my paper," she said.
A little after 4 p.m., a volunteer called up to Alba's home and said a copy was waiting downstairs. She was delighted.
But after the visit, she worried: "What about tomorrow, will they be delivering it tomorrow?"
Hopefully, for Alba, someone will. McGrory said that he is "not optimistic" about Monday's deliveries, "but maybe we'll get surprised in a good way."
ACI indicated to the Globe that deliveries might not return to normal for four to six months.
In the meantime, Globe reporters and editors are trying to do what they can. Just before 8 p.m. Sunday, reporter Beth Healy answered the phone when a longtime subscriber named Ed called the newsroom and inquired about his missing copy. He's a "super nice guy," Healy then wrote to the newsroom listserv, asking whether anyone could drop off a copy for him.
McGrory hit reply-all: "I can do on my way out of here, if Ed can wait until 9 or so."
When asked about it later in the evening, McGrory downplayed his contribution, saying "it's one paper. We had people delivering several hundred on routes that went on for 8 and 10 hours in the middle of the night."