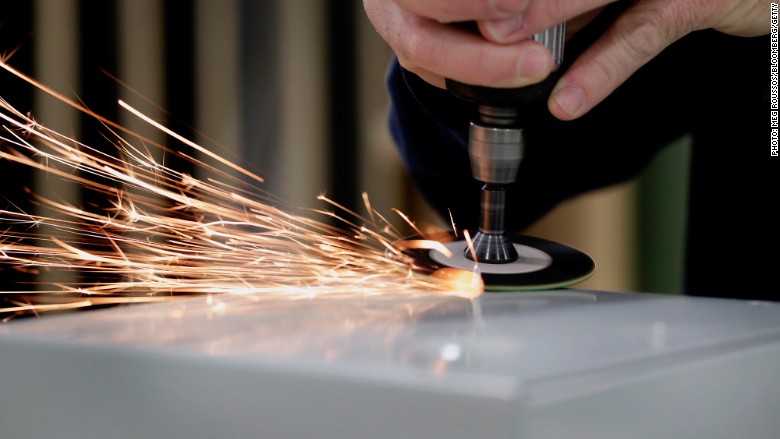 First China, now the United States.
America's manufacturing sector shrank for the second straight month in December. The industry's key index -- ISM -- hit 48.2% in December, the lowest mark since June 2009. Anything below 50% is a contraction and a month ago it hit 48.6%.
The index has fallen for six straight months.
"The trend is certainly heading in a direction that would ring alarm bells," says Sam Bullard, senior economist at Wells Fargo.
It's bad news especially after a private survey on Monday showed that China's factory sector had decelerated further. The weak data from China sparked off a global selloff in stock markets.
The U.S. manufacturing contraction didn't help: the Dow fell over 400 points to new intraday lows after ISM came out.
American factories are hurting from the global economic slowdown triggered by China.
They are also reeling from the strength of the U.S. dollar. When the dollar gains in value, it makes U.S.-made goods more expensive for foreign buyers.
Workers are feeling the pain too. Manufacturing was one of the worst performing job sectors in the economy in 2015. As much of the U.S. job market improved last year, manufacturing added a meager 17,000 jobs.
As global headwinds picked up steam at the end of the year, the manufacturing sector registered job losses in August, September and November.
If manufacturing continues to weaken, it doesn't bode well for the U.S. economy in the new year.
Manufacturing only makes up 10% of the U.S. economy, but its performance often foreshadows U.S. economic growth, says Bullard, the Wells Fargo (WFC) economist. And the outlook doesn't look too great.
"That malaise is going to continue into 2016," Bullard says.