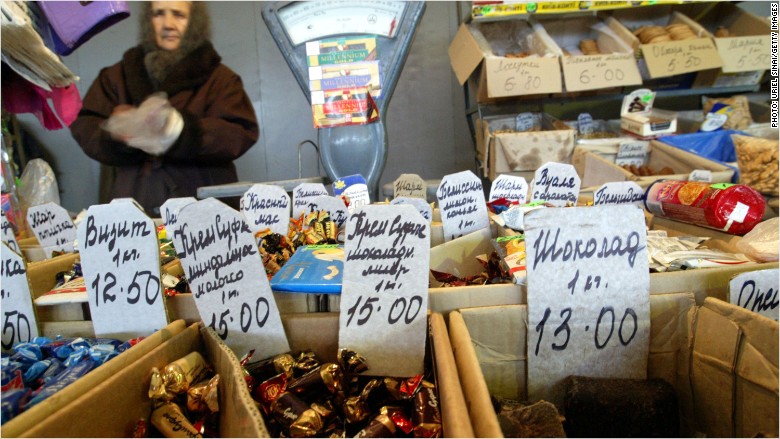 Tensions continue to rise between Russia and Ukraine, and now food is the weapon of choice.
Ukraine has stopped importing a range of goods from Russia including meat, fish and vegetables, after Russia imposed a similar ban on Friday.
The government of Ukraine said in a statement that Moscow continues to cause "substantial damage" to the Ukrainian economy, and it vowed to match every move made by Russia.
Russia said in December it would ban imports "of agricultural products, raw materials and foodstuffs produced in Ukraine," starting Jan. 1.
Relations between the neighboring countries have deteriorated rapidly since Russia seized Crimea from Ukraine in March 2014. Ukraine turned to the West for financial support, and signed a wide-ranging trade and political agreement with the European Union in June 2014.
The preferential trade aspects of that agreement came into force on Jan. 1, which led Russia to suspend its own free trade deal with Ukraine the same day.
Related: Russia's economy keeps getting smaller
Ukraine's economy is now much less dependent on exports to Russia than it was a few years ago. Prime minister Arseniy Yatsenyuk said just 12.5% of Ukrainian exports go to Russia, down from about 35% three years ago.
The EU says that its trade agreement with Ukraine should allow more Ukrainian products to be sold in the West. The EU said it will also help Ukraine's fight against corruption.
Ukraine and Russia have also fallen out over a $3 billion loan. Ukraine said Monday that it stands by its decision not to repay the loan granted by Moscow in 2013. Russia has reportedly started legal action to get the money back.
Ukraine reached a deal in October to reduce what it owes to foreign creditors but Russia refused to participate in the agreement.