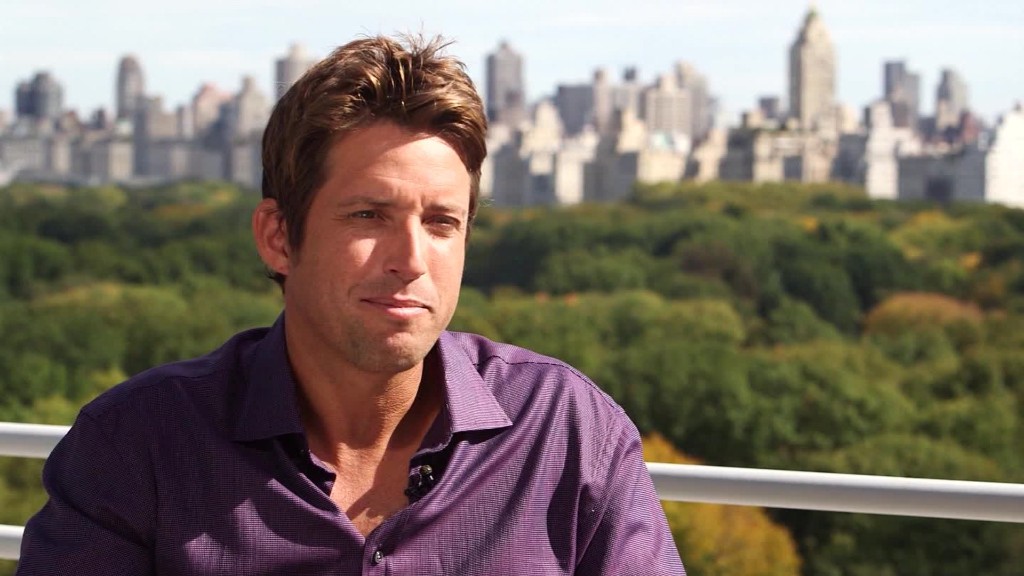 Time to take that fork out of GoPro's stock?
The action camera maker's shares plunged more than 70% in 2015. But GoPro is off to a solid start in a frigid market so far this year.
GoPro (GPRO) shares rose nearly 4% Monday while the broader market slipped on fears about China's economy slowing down.
The stock was up as much as 10% at one point early Tuesday before giving up most of those gains.
Still, GoPro remains in positive territory for 2016 (all two days of it) and has bounced back nearly 20% from the all-time low it in mid-December. Here are some possible reasons why.
1. Hero sales may have been stronger than hoped during the fourth quarter
JPMorgan analyst Paul Coster wrote in a report Tuesday morning that the Black and Silver models of GoPro's Hero4 camera were sold out at several Best Buy (BBY) stores just after Christmas.
Related: GoPro stock has been a huge dog
There had been fears heading into the holidays that the popularity of GoPro's products were waning. Better-than-expected sales should lead to higher profits.
2. Instant Karma at CES?
Some investors are apparently hoping that GoPro will officially introduce its Karma drone at the Consumer Electronics Show in Las Vegas this week.
The company put out a cryptic video about the Karma on its YouTube channel last month. It shows stunning aerial footage of a wooded area ... but no image of the Karma itself. It ends with this tantalizing tease: "What if you could fly? That would be magic."
GoPro has promised that the Karma will be available sometime in 2016 but has not provided any other details about the product. There are rumors the Karma will have a 360-degree camera for virtual reality videos.
GoPro executives will be talking to analysts from JPMorgan and Citigroup from CES on Wednesday. Perhaps they'll drop more hints about the Karma then.
3. Shorts getting squeezed
GoPro is a favorite target of short sellers, investors who borrow a stock and immediately sell it with the hopes of buying it back at a lower price.
Shorting GoPro was a great bet for most of last year. But with the recent rebound from its lows, some shorts may need to buy back shares sooner rather than later in order to avoid big losses.
Related: Your guide to obeying the new drone laws
That can create what's known as a short squeeze, a massive move by short sellers to cover their position ... which drives the stock even higher.
As of mid-December, more than 40% of GoPro's available shares were being held short. That's a lot of investors who eventually have to buy the stock.
4. The stock is cheap
GoPro shares are trading for less than 16 times 2016 earnings estimates. That's a relative bargain when you consider that analysts are still expecting annual earnings growth of 15% year, on average, for the next few years.
But there are still plenty of reasons for GoPro investors to be concerned.
Many risks remain
Will GoPro actually be able to meet those 15% growth targets? It's going to have to launch a lot of hot new products to do that.
And this year may be another tough one for the company -- partly due to mounting competition in GoPro's core action camera market from the likes of Sony (SNE), Xiaomi and Polaroid.
Wall Street is predicting that profits will be flat this year.
The Karma is also not a guaranteed success. It's not as if GoPro is the first company entering the crowded market for consumer drones. Or virtual reality for that matter.
Entering a new market isn't always easy. Just look at what happened to Fitbit (FIT) on Tuesday.
The fitness tracker launched a new smartwatch at CES, the Blaze, that many were hyping as a viable competitor to the Apple Watch and other wearables already on the market.
But investors were unimpressed. Fitbit's shares plunged nearly 15%.
Finally, there's this chilling line from JPMorgan's latest report. Coster concedes that a big risk for GoPro is that "Apple, Google, or other industry giants enter the space and simplify video editing and authoring, making the hardware a commodity."
Commodity is a dirty word in tech. It means that you have no pricing power.
And tiny GoPro can't afford to get into a price war with cash-rich Apple (AAPL) and Google (GOOGL).