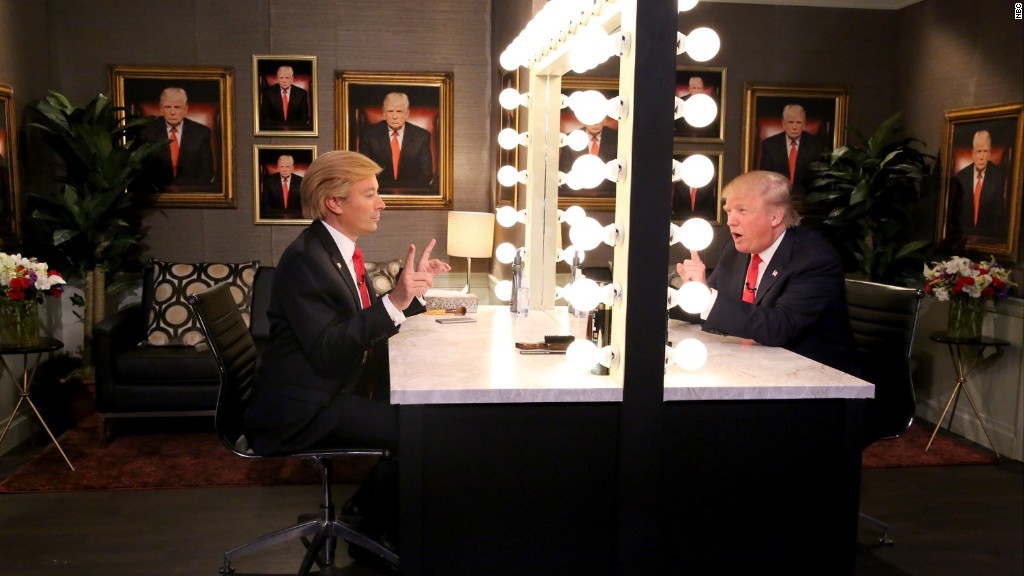 It appears that Jimmy Fallon will need to get his blond wig and Donald Trump voice ready.
Trump, the GOP frontrunner, will appear on "The Tonight Show with Jimmy Fallon" on January 11, according to NBC.
The appearance comes just weeks before the Iowa caucuses on February 1 and the New Hampshire primary on February 9.
It will also be one day before President Obama's final State of the Union address.
This will be the second time the business mogul has appeared on Fallon's "Tonight Show" as a candidate.
Trump's first time, on September 11, saw the candidate poke a fun at himself, allowing Fallon to dress up as him in a sketch.
"Wow, I look fantastic," Fallon in his best Trump voice said.
Trump quickly responded, "No, we look fantastic."
Related: Trump and Fallon both play Trump on 'Tonight Show'
During Fallon's interview with Trump, the host proposed that the candidate change his campaign song to DJ Khaled's "All I Do Is Win."
The guest spot allowed Trump to show off his comedic side to a new viewership and voters.
Trump would later visit Fallon's competitors Stephen Colbert and Jimmy Kimmel as well "Saturday Night Live," which he hosted in November.
Fallon looks to benefit from the ratings windfall that a Trump appearance usually delivers.
Trump's guest shot in September brought in 4.5 million viewers, helping Fallon beat out his fellow late night competitors on the night.
Related: Donald Trump gives Jimmy Fallon a big win over Colbert
Sign up for the Reliable Sources newsletter — delivering the most important stories in the media world to your inbox every day.