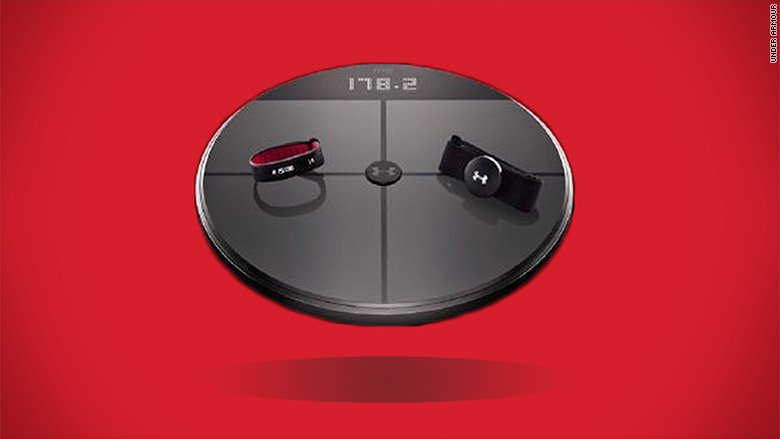 Under Armour wants to help you monitor your body 24/7.
The sports apparel and accessories maker unveiled a closetful of new devices on Tuesday at CES 2016 in Las Vegas.
The HealthBox is a kit that includes a chest strap that monitors heart rate, a wristband and a circular scale.
The fitness wristband has a unique design that makes it comfortable to wear all day, even while sleeping. The touchscreen is also discreet and surprisingly responsive and accurate.
The circular scale is a sleek looking device. You have the option to sync the scale to corresponding apps so that it remembers who you are each time you step on it. The scale can also measure body fat percentage and keep track of weight loss goals.
HealthBox will retail for $400 and is available for preorder now and will be available starting January 22.
All of the items in the kit will communicate with the brand's UA Record app, which is available for both iOS and Android devices.
Under Armour (UA) is also releasing its first smart shoe. The "SpeedForm Gemini 2" will store data so wearers won't need another device to track workouts -- the shoe does it itself. The shoe will be available at Under Armour's website and specialty running stores on February 29.
The shoe is comfortable and lightweight, and is a necessary part of Under Armor's strategy to keep up its edgy sports brand image. After all, competitors like Nike have had smart shoes in their product lineup for years. Tech startups like Xiaomi have already announced plans to create athletic gear with smartphone connectivity too.
Under Armour also unveiled two new sets of wireless headphones that are designed to stay put during high intensity workouts. The UA Headphones Wireless will go on sale on January 22 and the UA Headphones Wireless Heart Rate will go on sale later this winter.
The company partnered with JBL to make the headphones, and HTC to make its HealthBox.
Both of these business relationships represent the importance of cross-industry deals. JBL and HTC are smaller tech companies that can now get more of their devices into peoples' hands, while Under Armour benefits from their technology manufacturing expertise.