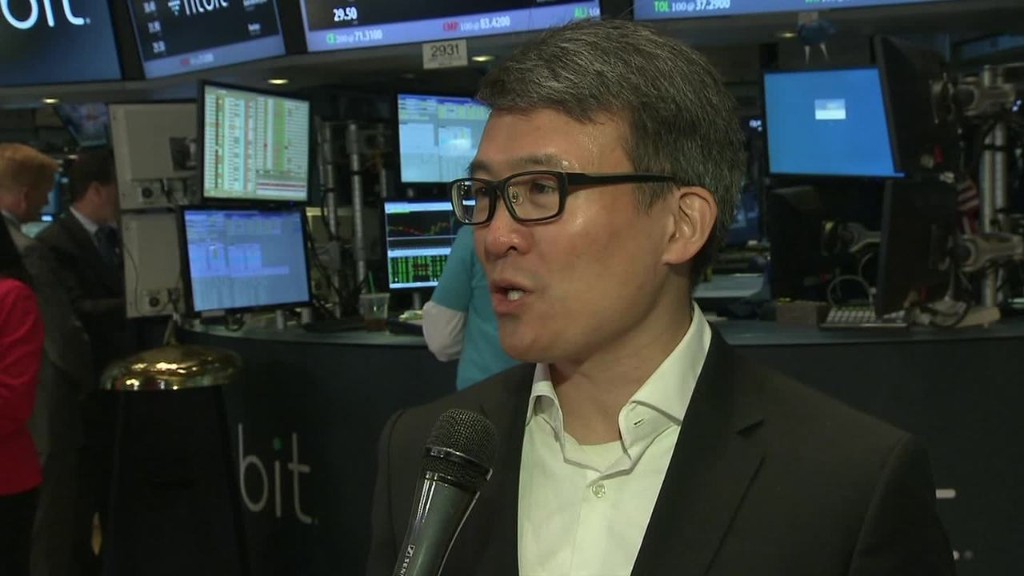 Fitbit has been the wearable technology leader since before anyone knew what wearable technology was. It's looking to stay that way, even as Apple is hot on its tail.
That's why Fitbit (FIT) has unveiled the Blaze, a fitness tracker with some Apple Watch-like features baked in.
Fitbit's fitness trackers are the industry leaders for a reason: They're simple, reliable and jam-packed with features that are tailored to fitness enthusiasts. They're just not much to look at, with clunky designs and black-and-white screens. President Obama wears one, and it goes perfectly with his tan suit and mom jeans.
The Blaze is different. It has a color touch screen, fashionable and swappable bands, and a slim design. It even has a few standard smartwatch features, such as answering and declining calls, calendar syncing and music playing.
But the Blaze is a fitness band -- not a smartwatch. Don't expect to run Facebook (FB) on this thing. You can't use it to pay for your latte. Like all Fitbits, it can track your exercise and automatically sync your workouts with your phone. It monitors your heart rate, steps and your activity throughout the day.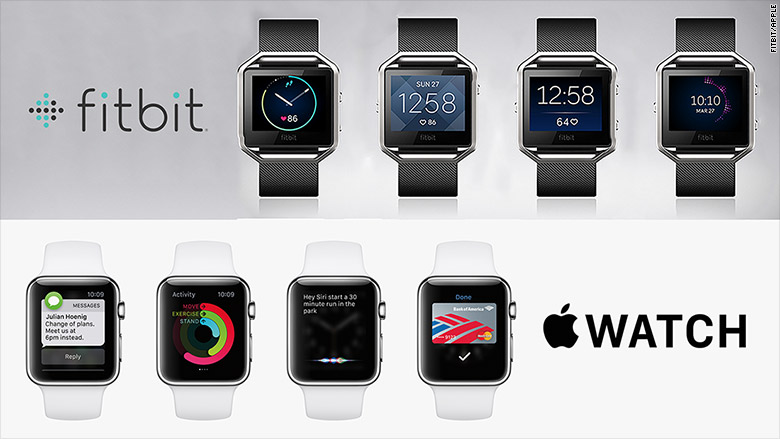 Fitbit doubled its sales in the third quarter of 2015 and outsold the Apple Watch -- but only edged out Apple by less than a million devices, according to IDC.
The Apple (AAPL) Watch and many other smartwatches do a lot that the Fitbit can do. Smartwatches have heart-rate monitors and plenty of third-party apps that can track your activities throughout the day.
Even if smartwatches aren't as good at tracking your fitness activity as the Fitbit (they're not), Fitbit has to be concerned that single-use wearables aren't long for this world.
Fitbit is by far the largest player in fitness wearables, with an 85% share of that market, according to IDC. But sales of other single-use items, such as cameras, PCs and camcorders, all plummeted once the multi-function smartphone started to take off.
The Blaze is Fitbit's response to that market shift. Fitbit hopes that by adding just enough extra functionality, it can keep its fitness-loving customers loyal.
The new Fitbit Blaze has one feature that smartwatch owners would drool over: It gets five days of battery life.
But the Blaze also has a few notable quirks.
The screen pops out of its metal shell, which is attached to the watch band. Fitbit says it made that design choice so that customers can switch between stainless steel and gold shells (you can't switch the color of your Apple Watch). The company insists that the screen fits securely in the shell, so it won't pop out by accident.
Unlike the more expensive Fitbit Surge, the Blaze doesn't have built-in GPS. So you still need to run with your phone in your pocket to track your outdoor workouts. Fitbit said it decided not to include GPS to keep the Blaze's design sleek and slim. GPS chips would have added heft.
And the Blaze has a kind of odd octagonal design that is still a tad dorky looking compared to other smartwatches on the market. It's lightyears ahead of the super-nerdy Surge, but don't look for Swiss watchmakers to start copying its design anytime soon.
If you're looking for a fitness tracker that has just the right amount of modern smartwatch features, the Fitbit Blaze is worth checking out.
The watch comes with black, plum or blue bands, starting at $200. More fashionable bands cost extra.
Maybe President Obama will spend a few bucks for an upgrade.